101 EFL Activities for Teaching University Students
101 EFL Activities for Teaching University Students
Hall Houston
International Teacher Development Institute (iTDi) TESOL (2022)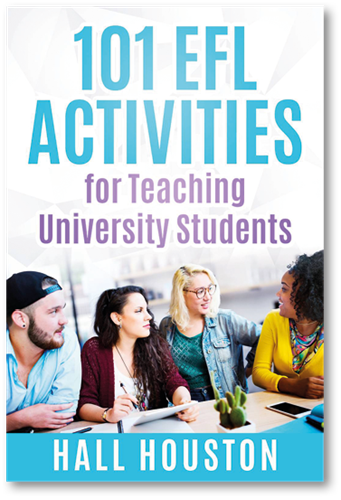 Picture this. A humid afternoon, a packed lecture theatre, an air of apathy. Mild interest in the foreign teacher's 'lecture'. A smattering of serious English language students with high expectations. Most ESOL teachers who have worked at university in Asia can recall this scene, and the suppression of panic as they rapidly reviewed a lesson plan created for a less enervating context. Enter Hall Houston and 101 EFL Activities for Teaching University Students, published by iTDi TESOL. If only I had had this book twenty years ago when facing Compulsory English classes at University in Japan! Houston's book is long overdue, filling an essential niche.
The rationale is reminiscent of Sion's superbly named 1985 collection, Recipes for Tired Teachers, in that Houston offers a wealth of engaging ideas for large groups, requiring minimal preparation. Like a conventional recipe book, he provides a name for the dish, necessary ingredients and estimated preparation time – with an optional garnish here and there. The format also echoes Jill Hadfield's classic Communication Games series, though here for a potentially less-engaged clientele. The fact is, Houston knows his onions. In his introduction he explains that he has taught university classes in both Hong Kong and Taiwan, where he is still a practising teacher. He also suggests his book has been created through a process of trial and error. Houston is clearly an old-school practitioner who artfully manipulates learning and teaching with a magician's finesse based on experience, empathy, energy and creativity. He also provides a wealth of internet-based resources to cater for the more digitally minded.
Unlike language schools with a revolving door policy, university programmes require long-term planning, course outlines, assessments and graduate profiles. Houston recognises this in his structure, dividing the book into three sections which focus on the first few weeks (or honeymoon period), mid-term (with an emphasis on maintaining motivation) and the dismantling of the learning community towards the end of semester. At the same time, he maintains three over-arching themes i) the ineluctable influence of the university context, ii) the interplay of group dynamics and iii) active learning. Finally, he encourages teacher development with exercises at the end of each section to promote a cycle of reflection and improvement, along with links for teacher wellbeing resources.
The book is well-researched with a solid theoretical basis, nods to various EFL luminaries – Hadfield, Rinvolucri, Scrivener and Thornbury – and an extensive list of further reading, internet resources and teacher development courses on platforms such as FutureLearn. A nice example of a useful link is Spinning the Wheel of Names (8). The first ten activities are all dedicated to remembering names, which may seem a lot, but names are the foundation of a positive learning environment. Houston links to a website with a colourful wheel of student names, and the teacher spins the wheel like a glitzy game show host – anything to grab the attention of the sleepy youth in the back row who worked in a restaurant all night.
I had heard Houston was 'good value' and I'm now an official fan. It's tempting to include almost every activity, but I'll confine myself to a handful of standouts. Some are updated from old favourites like guessing the significance of information about the teacher (14), but here evolved into digital collage. Some are very simple, like pairing up large classes by having half the class write their names on strips of paper, distributing these to the other half and asking them to find their partners. Simple but efficient. If you're a visual, auditory, reading/writing and kinaesthetic (VARK) proponent, there's something for everyone. Visual activities include Storyboarding a Music Video (44) or One Pagers (48 & 83). Auditory learners get Halfalogue (40) or A Day in the Life of a University Student in… (63) which emphasises the universality of undergrad life and has a host of links for cultural comparison. For the Reader/Writer there are longer activities – Expanding the Transcript (41) and Shopping for a Short Course (95). The 101 are not 'games' per se. Although many are suitable as warmers or fillers, Houston provides lead-ins and integrated skills activities for longer, more focused segments. For the kinaesthetic-at-heart, there is movement (always good in long classes) like Crumple & Shoot (72) which involves hurling paper around, Snowball Fight (19) and varied use of classroom wall space, Four Posters on the Walls (61), or Chunks on the Walls (54). Several activities are outside the classroom, like This Semester in Space (81) and there are book-ending activities for teachers and learners like the First Impressions video (28) reviewed at the end of the course (93). Finally, there's even a nod to those heady, humanistic days of Suggestopedia with From Soundscape to Dialogue (55).
I do have a couple of suggestions. It would be nice to see this picked up by a mainstream publisher and formatted with printable worksheets rather than links to handouts. The rationale and teacher reflection are essential but could easily be interleaved. I also wonder about the audience. EFL teachers overseas are a given, but Houston wants to go further: 'In many countries, university courses (even English courses) are still taught through lectures where students learn passively' (p.2). This is true, but hard to remedy. I have trained teachers from Japan and Thailand who love what we do but find they are too restricted on their home turf to put new techniques into practice. With a slight shift in focus, however, Houston might jump on the English as a Medium of Instruction (EMI) bandwagon, so à la mode in recent years. One final useful addition would be an indication of level, as some activities seem easily adaptable to any level, while others suit more sophisticated language and might be better for second- or third-year electives.
Overall, this is an excellent manual for all EFL teachers at tertiary level and a 'must have' in the suitcases of inexperienced teachers starting out. I intend to keep my copy to hand on my (somewhat messy) desk and dip in regularly to enjoy Houston's myriad of classroom creations.
Meg Shovelton
Meg Shovelton is a teacher and teacher trainer at Wintec, Hamilton, New Zealand who is currently studying French.