A book I've used - Final Draft (Level 2)
Modern English Teacher, 25 (3), July, 2016
Final Draft (Level 2)
Jill Bauer and Mike S. Boyle
Cambridge University Press 2016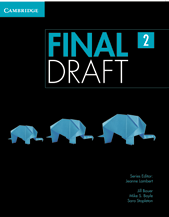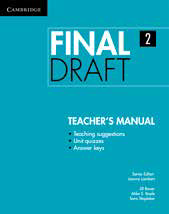 When planning an academic writing course, it can sometimes be tricky to know where to start. Should you begin by helping students generate and organise ideas? Focus on modelling genres? How about constructing paragraphs? Or plagiarism and citation? Perhaps we should simply focus on enriching students' academic vocabulary and grammar? In fact, in a recent series of needs analyses carried out with in-sessional students by the Language Services Unit at Anglia Ruskin University in the UK, students themselves requested help with all these areas.
With this in mind I started working with Final Draft, whose aim is to prepare 'students to write in a college or university setting by focusing on the topics, rhetorical modes, skills, vocabulary, and grammar necessary for students to develop their academic writing'. The material is based on two sources: the Cambridge English Corpus, a multibillion word database of actively used English (with additional input from Coxhead's Academic Word List and West's General Service List); and the Cambridge Learner Corpus, a collection of more than 50 million samples of non-native speakers' texts.
The choice of content, then, is based on hard data. This is particularly noticeable in the Grammar for Writing sections, where tenses – the bedrock of most General English coursebooks – are studied in only one unit. Instead, there are sections on word forms, adverb clauses, quantifiers and other forms that perplex EAP students.
The course has eight units: two covering the essentials of academic writing (topic sentences, controlling ideas, etc.); two focusing on description and definition paragraphs; and four examining different types of essays (opinion, classification, process and compare/contrast). Each consists of roughly 25 pages and is packed with brainstorming activities, language and skills work, discourse analysis and writing tasks. I estimate it would take an average intermediate class at least ten hours to complete these fully, and with the addition of the teacher's own material could take considerably longer. Obviously, some of the exercises could be set for homework, although CUP offers additional resources for this (of which more later).
Final Draft combines a process approach to writing (taking students through the stages of creating a text) with a product approach (analysing model texts). In each unit students brainstorm ideas using frameworks such as cluster maps, then go on to create an outline before writing first and final drafts, all the while referring to the sample texts they have analysed. What I particularly like is that one of the model texts is always an essay. Students often have to write essays but rarely get to read them, so the provision of eight model essays is, for me, one of the selling points of this book.
The use of model texts also highlights specific rhetorical modes. I've found that students benefit greatly from understanding what kind of essay they are writing. After all, a 'problem-solution' text has a somewhat different structure to a 'compare-contrast' text, and knowing the difference can help students with both planning and writing. In Unit 7, for instance, students are introduced to process essays, starting with a flow chart (here called a 'process diagram') before moving on to compose an essay that guides readers through the stages of a production process. The book encourages students to discover the distinct features of the genre by drawing their attention to the writer's choices and purpose at each stage.
One thing you won't find in this book – and which may surprise some teachers – is work on nominalisation and passives. The reason I imagine (it is not stated), is that Final Draft is designed with the North American market in mind, where lengthy noun phrases and passive forms are viewed with suspicion. The Purdue Online Writing Lab, for example, says, 'overuse of passive voice throughout an essay can cause your prose to seem flat and uninteresting', but while there is some truth in this, most students, particularly those studying scientific subjects, will need to construct passive forms to achieve the objective stance characteristic of academic writing. A certain amount of nominalisation is also required, not least to be able to write appropriate essay titles. Thus, teachers may need to supplement the book in these areas to suit their own classes.
The other area in which the North American focus is evident is content. References to baseball, the Presidents' Committee and the Statue of Liberty, or the use of a dollar bill to explain spatial location, may not suit every class. While other cultures are certainly mentioned (the Caribbean, Mexico and China, for example), Africa is presented only as an aid recipient ('poor women in Uganda') and the Middle East and Europe are conspicuous by their absence.
What Final Draft does do well, however, is to tackle the problem of plagiarism. Each unit has a section in which a fictional student presents a question to 'Professor Wright' and receives advice on dilemmas such as Recognizing Plagiarism, What is Common Knowledge?, Using Information without Plagiarizing, and Strategies for Paraphrasing. The advice is supported by examples of good and bad usage, as well as practice activities to check comprehension.
So what is the material like to teach from? I think many teachers would find it dovetails neatly with what they already do, that is, start by introducing a topic and brainstorming ideas. Personally, I might use images or a video to generate more responses, but the writing prompt in the book is a good reminder that certain ideas are going to feed into their own essays. Then there are some academic vocabulary exercises to prepare students for the reading text, which is a 'real world' article written in non-academic style. In Unit 3, for instance, the article contains sentences starting with And and But, as well as numerous contracted forms. The aim is to demonstrate discourse level features, such as where information is placed in the text, not provide a model of style. In Unit 4, for instance, students are asked to identify definitions. This section is immediately followed by the Student Model, where the focus is on a single rhetorical feature, a wise decision at B1 level. What I particularly like are the mini tasks next to the text, which ask text-level questions, such as 'What is the purpose of this sentence?'.
The class then analyses how ideas in the text have been organised, with students completing an outline of the paragraph or essay. Since much of the legwork has been done, this is essentially a gap-fill activity. However, it creates a highly visual model for students to deploy when they write their own outlines. I had my own students do this in teams with flip chart paper and markers so they could negotiate appropriate topic sentences, supporting sentences and details. The intensity of their focus surprised me!
The unit then moves from noticing language to applying it, with plenty of practical exercises. The presentation is visually clear and easy to follow, and each Grammar for Writing section contains a reference table, followed by tips for avoiding common mistakes. After an Avoiding Plagiarism section, students are guided to Write Your Essay, with easy-to-use pages devoted to brainstorming, outlining, drafting and editing. For teachers new to EAP this clarity is reassuring.
The slim but efficient Teacher's Book offers good teacher support, and extra learning support is richly provided via CUP's Writing Skills Interactive platform, where students can be enrolled at the relevant level in a secure class environment. Here they can access 32 units, each with 7 steps, plus an A–Z glossary. Level 2 exercises start easy (A2), but this allows students to quickly review basic language and skills, plugging any gaps and building confidence. The system also gives students instant feedback, increasing not only awareness of strengths and weaknesses but also motivation. Teachers can use the platform not only as a homework tool, but also as a means of checking individual progress and a forum for discussion. Initial access can be tricky, especially as the online system has a different name from the book (if you have access to a computer lab, try getting the whole class to register together). However, once logged in, the navigation tools are simple and intuitive.
So, would I want to teach with Final Draft? Yes, without a doubt. It covers all the areas that concern students, presents valuable essay models, provides carefully staged practice and gives exceptionally clear guidance on avoiding plagiarism. Definitely a good place to start that EAP writing course.
References
Coxhead A (2000) A New Academic Word List. TESOL Quarterly 34 (3) 213–238.
West M (1953) A General Service List of English Words. London: Longman, Green.
---
Alison Carse has been teaching in universities and language schools since 1988. She recently took up the post of Associate Professor at the Liberal Education Centre of Aichi Prefectural University in Japan.