A book I've used - Macmillan Children's Readers
Modern English Teacher, 25 (3), July, 2016
Macmillan Children's Readers
Clothes We Wear/George's Snow Clothes (Level 1)
Fun at the Beach/The Big Wave (Level 2)
Big and Little Cats/Grandad's Weekend with Leo (Level 3)
Chocolate, Chocolate, Everywhere!/The Chocolate Fountain (Level 4)
The Wild West/The Tall Tale of Rex Rodeo (Level 5)
Edinburgh/Festival Fears (Level 6)
Macmillan Education 2015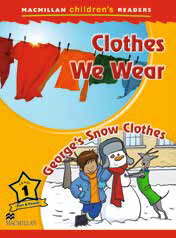 English-speaking children learning to read in their first language have a plethora of materials to choose from; one particular well-known series I have been using with my own children I consider excellent. However, for children learning to read in English as a second or additional language, the quality of available reading materials is more variable. This six-level series from Macmillan is one of the better ones and may be a welcome addition to your school library.
The first thing to notice is its colourful and lively design. Different illustrators are used throughout, but the series has an overall cohesive 'look' and the combination of photographs and illustration works well. There are subtle shifts in the illustrative style as the target audience matures – six-year-olds should enjoy the pictures in the level one books as much as the eleven-year-olds reading books at level six.
The idea behind the series is to combine fiction and non-fiction. The first reading in each book is factual, introducing an age appropriate topic of interest to children; the second reading, a story, is based on some element in the first. For example, the level three book gives information on cats in the wild and as pets (Big and Little Cats), then tells a family story about pet troubles (Grandad's Weekend with Leo). It's a solid format and allows children to come into contact with different genres and writing styles at a basic level. There are not too many surprises in the topics selected, but I think the majority will be engaging for young readers.
At the back of each, there are a few activities ranging from colouring, in Clothes We Wear/George's Snow Clothes, to word searches and comprehension questions in Edinburgh/Festival Fear. I am not convinced these have a great deal of value – personally, I think a reader should be a reader, not a textbook. However, they are there if you want them, along with picture dictionaries at the lower levels and bilingual dictionaries for older learners to complete for themselves. There are more resources to download from the accompanying website – extra worksheets and answer keys and mp3 recordings of the text.
I can imagine two main ways that the books could be used, but unfortunately neither is fully served by the publishers. If the teacher wants to use them in class to supplement a Macmillan textbook, the mapping documents supplied on the website don't really show how the readers connect with the grammar or functional scope and sequence in any of their published series. It seems that each reader was written with certain grammatical structures in mind (for example, level two seems to be focusing on can and at level three both readings use have/has got repeatedly), but these areas are not explicitly stated in the book itself or in any of the online resources. Many teachers like to close a lesson on a particular structure by reading a simple story containing that structure in context. These books might suit this purpose, but the publishers don't make it easy for them. Alternatively, the books could become part of an extensive reading library, in which case more information on the word count and number of headwords would be helpful. It appears that the books have been carefully written with regard to vocabulary (breadth and difficulty), but again without clearer information it is hard to be sure.
I feel that these readers suffer from the same problem as many other published readers – it is not really clear what we are meant to do with them. With a little more support they would be an excellent resource.
All the same, despite my criticisms, they are good books. Learners will enjoy reading them and they are versatile enough to be used in a number of different ways, in class as well as for self-study.
---
Darren Elliott has been teaching and training teachers in Japan and the UK since 1999. He has published on teacher development, technology and language education, and learner autonomy. He maintains a blog at www.livesofteachers.com.