A book I've used - Sure
Modern English Teacher, 24 (4), October, 2015
Sure (Elementary)
Martyn Hobbs and Julia Starr Keddle
Helbling Languages 2014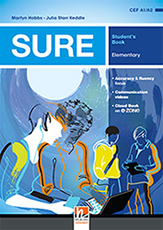 Sure is a new four-level course (Beginner to Intermediate) for young adults. It uses a grammar-based syllabus as its framework and promotes autonomy for students through cyber homework, online training and a 'cloud' book. It is aligned with the CEFR and uses content-based themes relevant to today's students around the world.
With my elementary class in the Gulf, I used the Combo edition of the Student's Book – a combined coursebook and workbook. This is a lovely cost-saving measure, and ensures that students have both books in class. When I first saw the topics – My Life, Day to Day, Style, Journeys, Time Out and Adventures – I was quite excited, but a bit less excited by the sub headings – Bio Data, Family, My Home, and the like. I was, however, struck by the lovely pictures and the simple organisation of the first page of each unit, which explains what will be covered in a simple column down the side.
Each page is jam-packed with visuals to support the language being introduced. Photos are relevant and in good taste, and there are plenty that teens and folks in their early twenties will relate to. For example, pictures of university dorm rooms, cell phones, mixed families, fashionable closets and foods from around the world. I really like the eclectic blend and feel it speaks to more students than usual and world travelling teachers. This is not a run-of-the-mill book.
One of the first texts in the book is about a young woman's blog. What a fabulous way to introduce students to journaling and doing it online! There is a section on social language in each module and the conversations are much more natural than most coursebooks' offerings. There is also a 'culture' box, which gives some little titbit of information about western cultures. Some of the countries and cultures featured are the USA, the UK and Ireland. I really liked that there are a variety of accents in the listening texts and that the readings texts are also varied. I think it's a great idea to expose students to both British and American English at a low level.
There are lots of colours and cartoons and extra pieces of information to be found on most pages. While some people may find the pages too busy, the book worked well for me. My learners also appreciated the visuals. The texts are relevant to a young adult group and the communicative practice tasks ensure students are engaged.
The course comes with a wide range of components. The Teacher's Book includes a DVD, audio discs (in American English), a testbuilder CD-ROM, and the answers to exercises and audio scripts. It also includes activities for fast-finishers and concept checking questions for the grammar components. I really loved this as many teachers don't know how to concept check and I think the explanations are clear and simple. As with many other good Teacher's Books, there are expander tasks for different activities.
Since I am currently teaching prepositions of place and past simple, I turned to Unit 7 in Module 4, Journeys. The cartoons to match with the prepositions are clear and humorous and the listening task is about a woman who gets lost on her way to a party and has to ask for directions. I loved that the woman had the man repeat some directions and then said she was going to 'put it in her phone'. Very 2015! Unit 8 included a speaking task about a recent holiday, to give students a real reason to use past tense verbs, and pictures used to encourage students to think critically are relevant to life during vacation times: traffic jams, air travel, customs and line-ups. We often teach Elementary students the 'niceties' of a language but we neglect to teach them how to express their frustrations. I am impressed that the authors of this book did not shy away from this.
There are the usual activity-types (ordering, sequencing, gap-fills, crossword puzzles, etc.) but it was the pictures that grabbed me. Unit 9 is about eating out in the community and the foods and questions related to food are interesting rather than clichéd. There are articles on alternative sports, and alternative living arrangements, youths who have done superhuman things and, of special interest to me because of the students I am working with, a story about Korean youths who are addicted to the internet. Not your average reading fare.
Finally, Sure also includes a personal access code for each book which leads you to a virtual course with interactive activities. The e-zone provides an interactive version of the Student's Book and Workbook and also includes exam preparation, pronunciation tasks, and access to a virtual classroom that the teacher can control. I think this is a very interesting series and I am looking forward to trying out some more activities with my learners.
Sandee Thompson
Sandee Thompson is an instructor at the
College of the North Atlantic, Doha, Qatar
and a CELTA tutor/assessor.