A fun day out at ETp Live
English Teaching Professional, July, 2014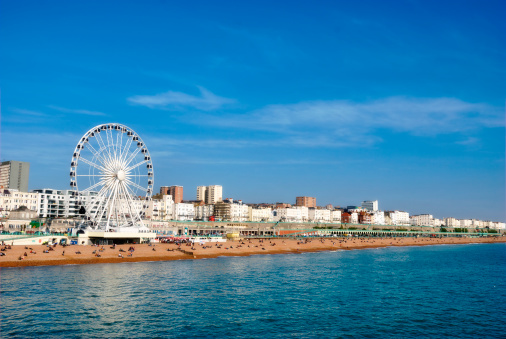 Beautifully set in the seaside town of Brighton, the one-day conference, ETp Live!, attracted more than 120 delegates to the ten talks on a variety of practical tips for teachers, ranging from drama in the classroom to adaptive learning, ELF and helping our business clients to manage virtual teams. While it was an opportunity for professional development, for many, it was also a chance to network, to get to know our industry, and to catch up with old friends and colleagues.
If you are using a mobile device go to https://www.youtube.com/watch?v=1R0xclkCaTk
 The conference opened with a plenary by Jeremy Harmer called 'Sacred gift or faithful servant? Focus and creativity in the classroom', where he considered the importance of paying attention. Drawing similarities to his experiences with his studies in music, Harmer talked about how he was told off for mindlessly practising his scales while watching television and conducting other chores. It is 'deliberate practice' that was needed to achieve results, and not 'mindless practice'. Applying this to the language classroom, every activity and task we set our students on is about getting them to 'deliberately' practise language with full attention to what they are practising.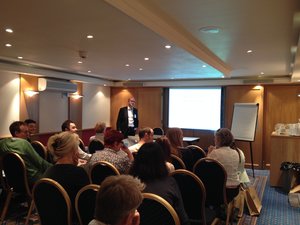 In the next session, Dennis Davy talked about how he used London as a theme for a series of lessons and encouraged the audience to apply this to any city that they are teaching in. But I had to choose between two parallel sessions, and I chose to go to Mike Hogan's talk on the challenges of working in international virtual teams. After highlighting certain current developments in the workplace, such as evolving team structures and the rise of 'millennials', he focussed on the fact that an ever-increasing number of our students need to successfully work in virtual teams. In addition to the need for language skills, Mike also addressed challenges such as dealing with cross-cultural issues, cultivating relationships and networks, and building trust. Having an understanding of the issues involved could enable us to help our students communicate more effectively and achieve more success in the workplace.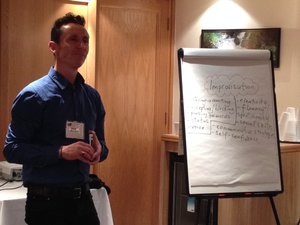 Session two had me choosing between Philip Kerr's talk on adaptive learning and Mark Almond's on using improvisation and drama in the language classroom. Looking for a few new ideas to add to my bag of tricks that I could pull out when stuck in the classroom, I sat at the back of Mark Almond's session, watching an engaged audience as they carried out activities like 'The Oracle' and 'Tell me about – the interruption game'. Explaining that improvisation is not necessarily about performing in front of the class and can be conducted in pairs, Almond elicited from the audience a list of reasons to use drama, including the ability to provide natural and authentic practice of language, giving reticent students a voice and a chance to pretend, and fostering a sense of enjoyment and fun. After all, as Almond stated, only 7% of communication is made up of the words we use. The rest is intonation, body language, and the other para- and non-linguistic features.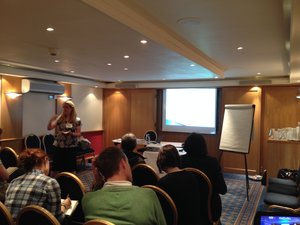 Choosing between Anna Musielak's session on drama and Catriona Johnson's on transposition was truly a tough call for me. I love both speakers for their sincere enthusiasm, their fresh ideas, and their genuine quest to put their students and their needs at the forefront of their teaching. But seeing that I had just attended a session on drama, I decided to find out more about transposition. In explaining the term 'transposition', Johnson cleverly started her session by getting the audience to make a word using the letters in the word 'transposition'. Transposition is similar, except that instead of moving letters around, we get students to do this with whole texts. Most famous examples of transposition can be found in James Joyce's Ullyses, a text that transposes the action from Homer's Odyssey to modern day Dublin. But one can transpose not just content but also style, as seen in Virgil's The Aeneid. Johnson then went on to inspire the audience with practical examples of how transposition can work in the language classroom:
Transposing a text on Henry the Eighth and his wives into an Oprah-Winfrey-style chat show;

Transposing a diary entry from The Freedom Writers' Diary to a film script (and then comparing the students' end product with the actual film script from the film The Freedom Writers);

Transposing a scene from the graded reader 'Four weddings and a funeral', which ironically is a transposed text by itself, to a radio play;

Reducing the graded reader 'The Road' and writing a one-page version of the story, while keeping the style of the writer.
The session left the audience inspired and talking about the things they do in the classroom that could be considered transposition, and the different ways they could make writing tasks more task-based and enjoyable.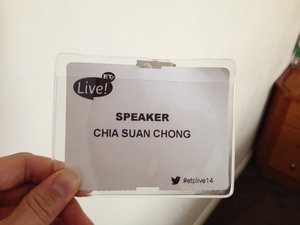 After lunch, and a chance to browse a few books at the exhibition stands, it was my turn to speak and so I had to miss Antonia Clare's session on the love and art of language learning as it was running concurrently with mine. After a brief introduction to ELF (English as a Lingua Franca) and Politeness theories, I looked at the research I conducted and concluded that addressing the topic of politeness in the language classroom goes beyond giving students a list of stock phrases e.g. 'Do you mind + -ing', 'I was wondering if you could + infinitive' as politeness is a multi-factorial construct that needs to take into account the context, cross-cultural issues, the power, distance and relationships between the speakers, the fluid and ever-changing interactions, and the sympathy that speakers would or would not have for each other's use of language. Rather than over-simplifying the issue in the classroom, we should use case studies to help sensitize students to how one can create the right impressions in different contexts and help them become more accommodating and better collaborators in interactions.
If you are using a mobile device go to: https://www.youtube.com/watch?v=TVgLWqEJGHY
 As an end to a perfect day, Ken Wilson delivered and uplifting and entertaining closing plenary on motivating students to do things by challenging them, and encouraging them to be imaginative and curious. The room was full of laughter as Ken gave us various examples, games, personal anecdotes, quotes and book references, including pictures that would raise eyebrows, reading texts that are bound to spark interests, and tasks involving swinging imaginary tennis racquets while grunting!
As the audience streamed out of the Hoilday Inn that evening, one could overhear talk of adjourning to the nearest pub for a continuation of the day's events. 
For as Confucius once said, "Choose a job you love, and you will never have to work a day in your life." 
Looking at the delegates at ETp Live! that day, I can safely say most of us are so so lucky.
---
A dear friend and colleague, Martin Sketchley, attended the conference on Saturday and went to the talks that I did not manage to go to (apart from the two plenaries and my own talk). Here is his excellent summary of his day at ETp Live!
---