An interview with Sheila Thorn: author of Integrating Authentic Listening into the Language Classroom
1. Tell us about yourself and your teaching
I have been fascinated by real-world L2 listening and language learning and acquisition ever since my first trip abroad at the age of 14. It was a school trip to France and I remember being confounded that I couldn't understand what French speakers were saying to me, despite the fact that I'd studied French for two years. The same thing happened two years later on a school trip to Germany, and again when I went to work in Sweden, despite my having studied Swedish beforehand. It was clear that the coursebook recordings that were used to teach each language bore very little resemblance to real-world listening. It wasn't the fact that I didn't know most of the words the speakers were using – I did. The problem was that I simply didn't recognise them in a stream of authentic speech.
After a spell teaching French and German in a secondary school, I decided to specialise in ESOL. I became the Director of Studies of a language school in central London and, knowing how important authentic listening in the L2 is for learners, I persuaded the principal to buy a language lab. Part of my role was to write listening practice materials to accompany authentic recordings of formal and informal spoken English.  These materials focused not just on the content of each recording, i.e. on what was said, but also on the delivery, i.e. on how things were said, thus differentiating between comprehension and decoding.
This experience led to me both becoming a listening paper writer for a major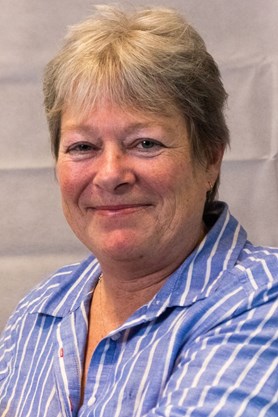 examinations board and setting up The Listening Business in 1998. For the next 14 years, I provided listening practice materials to language schools, FE colleges and universities in the UK and abroad at elementary, intermediate and advanced levels to accompany BBC radio news and business broadcasts under licence. I also wrote my Real Lives, Real Listening series based on a series of unscripted interviews with friends and family members, again at elementary, intermediate and advanced levels.
In 2013 I began teaching English for Academic Purposes at a university in central London. As a specialist in authentic L2 listening, I was invited to design the listening syllabus and the end-of-course listening papers. Since leaving teaching in 2015, I have worked as an ELT editor for a number of publishing houses around the world. In recent months I have started doing some one-to-one teaching.
2. What would be your first piece of advice for newly qualified teachers?
My advice would be to supplement the scripted and read-aloud recordings used in ELT coursebooks with authentic recordings. These will provide learners with essential exposure to real-life spoken English and allow them to practise L2 listening in the safe environment of the classroom.
3. What is your favourite thing about being an English language teacher and teacher trainer?
As a teacher, I have always found teaching L2 listening particularly rewarding when it is based on authentic recordings. This is because learners can make huge progress in just a few sessions, and it is fantastic to see them develop their skills and knowledge so quickly.
As a teacher trainer, I have enjoyed spreading the word about the need to expose learners to authentic formal and informal spoken English. L2 listening is an extremely complex area and I enjoy making it accessible.
4. What has been your biggest challenge in teaching?
When I started teaching, the only books containing authentic recordings were already out of print and there were no ELT listening practice books on the market containing 100% authentic recordings. This lack of resources meant I always had to design my own listening practice materials, which as all teachers will know, can be challenging and time-consuming!
5. Where do you see ELT in five years' time?
As a result of the Covid pandemic, many teachers have had to come to grips with the huge technical and pedagogic challenges of teaching online. However, given a choice, I personally feel that teachers and learners will generally prefer to be in an actual classroom, especially when it comes to teaching real-life listening. L2 listening is extremely challenging for learners and, particularly in the early stages of the language-learning journey, I believe it is much easier to tackle it in the safe confines of a classroom. But perhaps suitable online solutions may be yet to come…
6. What inspired you to write Integrating Authentic Listening into the Language Classroom?
Around 15 years ago, I was presenting yet another session at a conference on the need to supplement ELT coursebooks with authentic recordings and then to write suitable practice materials to accompany these recordings, whilst acknowledging that this was extremely time-consuming. At the end of the session, a delegate raised her hand and said 'I've seen you talk a number of times about the need to write our own listening practice materials to accompany authentic recordings. My question is, why don't you write some?', at which point the whole audience burst into applause. I remember I could hardly sleep that night for excitement, as that was the point when I decided to write my Real Lives, Real Listening books.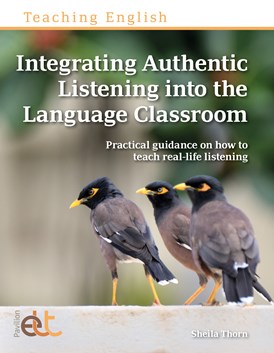 Meanwhile, I had been aware for many years that L2 listening does not receive the coverage it deserves, both on teacher training courses and in ELT coursebooks, despite its crucial role in language learning and acquisition. I was also aware that many people, including myself, found the terminology used to discuss L2 listening in both applied linguistics books and methodology books rather impenetrable. I was convinced that there was a need for an authentic listening methodology book that would make the whole area of L2 listening, and listening to spoken English in particular, accessible both to trainee teachers and their more experienced colleagues. In January 2019, I pitched my idea to Kirsten Holt at Pavilion ELT and the rest is history…
7. What would people learn from reading your book?
Readers will learn why it is essential to expose their learners to recordings of authentic spoken English to enable them to cope with the real-life spoken English they will encounter beyond the ELT classroom. They will also learn about the nature of spoken English and, in particular, why learners find listening so challenging. Finally, they will learn how to exploit authentic recordings effectively in the language classroom to achieve five key goals of teaching L2 listening.
8. Why should people buy your book?
I believe this is the first ELT methodology book to tackle the complex area of real-life L2 listening and make it truly accessible to both trainee/newly-qualified teachers and their more experienced colleagues. I achieved this by asking several friends of mine with no ELT or teaching experience to read through each chapter and report back if anything was unclear. They didn't hold back! Key points and concepts throughout the book are demonstrated using my own real-life examples.
The book begins with a theory section. Here I outline the rationale for using authentic recordings with learners and look at common misconceptions and contentious issues when it comes to teaching L2 listening. I then address the challenges of connected speech in terms of co-articulation, the connected speech features of elision, assimilation and linking, and the crucial role of prosody (rhythm, stress and intonation), all illustrated with real-life examples. Next I examine the characteristics of both formal public spoken English and informal spontaneous speech and the challenges these two very different types of English pose for learners. I then consider the challenges learners face both when recognising familiar words in a stream of speech and when constructing meaning, due to their less-than-expert grasp of the target language.
The next part of the book covers the practical aspects of teaching listening effectively. Here I outline guiding principles for teaching L2 listening, along with the need to lay firm foundations for learners. I then present five key goals of teaching L2 listening. Next I examine three ways of teaching listening in the language classroom. These consist of the traditional listening comprehension approach where learners are given a written task to complete, the meaning building approach where the teacher acts as a facilitator, helping learners to build up an understanding of the recording for themselves, and the decoding approach, where learners practise recognising familiar words in a stream of speech that have become reduced in terms of their articulation due to the effects of co-articulation, connected speech features and prosody. I then consider the extent to which each of these approaches covers the five listening goals, the conclusion being that only a combination of all three approaches will do so.
My hope is that this book will be the go-to book in years to come for anyone with an interest in teaching L2 listening.
If you would like to find out more about Integrating Authentic Listening into the Language Classroom by Sheila Thorn or want to order your own copy, then visit www.pavpub.com/pavilion-elt/integrating-authentic-listening-into-the-language-classroom.