And the winners are...: The ELTons 2018
English Teaching Professional, June, 2018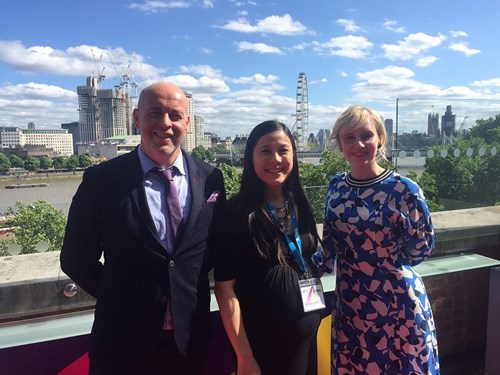 Standing with fellow ELTons red carpet interviewers overlooking the gorgeous London skyline from the IET
On the evening of the 18th June 2018, all of ELT's esteemed writers and publishers, and the industry's luminaries got together at the Institute of Engineering and Technology (IET) on Savoy Place in London to celebrate innovation in English language teaching and reward some of the best publications, apps and resources with the much-coveted ELTons award.
So what are the ELTons? Short for the British Council ELTons award for Innovation in English Language Teaching, the ELTons is often described as the Oscars of our industry and is now in their 16th year, with the ceremony held in London every June since 2003. This year, I was very honoured to be asked to blog and live-tweet the event, and conduct the red carpet interviews with the finalists and the winners, alongside Paul Braddock and Callie Massey.
And what made this year extra special for Pavilion Publishing was the fact that two of our books made it into the finals: Danny Norrington-Davies's Teaching Grammar: From Rules to Reasons was one of six finalists in the extremely competitive category of Innovation in Teacher Resources, a category that received the most number of submissions. In the category of Innovation in Learner Resources, Ros Wright and Richard Cresswell made it into the finals, alongside five other finalists, with their English for Health and Social Care Workers.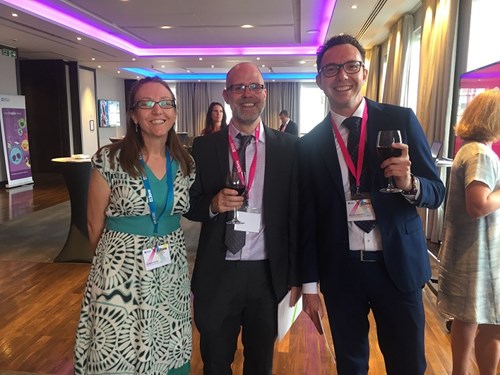 Danny Norrington-Davies with partner Gemma and co-finalist Michele Daloiso, writer of Supporting Learners with Dyslexia in the ELT classroom
It was also a privilege to have our Editor of English Teaching Professional, Helena Gomm, present the very prestigious Lifetime Achievement Award. She delivered an aptly amusing speech about how old one should be in order to deserve such an award, a speech that was described by some on social media as a 'wonderful introductory speech'.
In a pre-ELTons blogpost I wrote for the British Council Voices magazine, I highlighted the ten trends and innovations in the English language teaching industry, inspired by the finalists of this year's awards.
Less than 24 hours after returning from the awards ceremony in London, the adrenaline and the excitement from the ELTons still pumps through my veins as I repeatedly replay the events of the evening in my mind. Undoubtedly, some of the most thrilling moments came from the anticipation and the revelation of who the winners of each category were, and for those who weren't able to follow the event, I've put together my summary of the extremely deserving winners of that evening.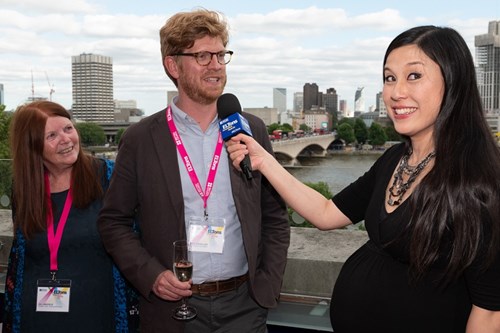 My red carpet interview with one of the creators from BBC Learning English for Tim's Pronunciation Workshop
Excellence in Digital Innovation
The first award presented that evening was won by Learn Languages with Ruby Rei (Wibbu). In a category filled with finalists that made great use of computer graphics and animation, Learn Languages with Ruby Rei came up tops with the way the creators used the video game universe of Ruby Rei to engage the learners through gamification, compelling story-telling, and an immersive learning experience. Within the game, students are tasked with saving Ruby Rei and her friends from a forgotten planet while practising their language and communication skills in the exciting adventure.
Excellence in Course Innovation
This award went to OUP Asia's first ever submission to the ELTons, Get Set, Go! Phonics (Oxford University Press), a pre-school resource used to help develop phonics knowledge in those little learners of English. In their short introduction video, Get Set, Go! Phonics demonstrates how phonics and essential vocabulary can be learnt through a series of fun activities that gets pre-schoolers participating in stories, songs and games whilst heightening their awareness of English phonology.
However, what captured the heart of the audience that evening was the emotional acceptance speech by Dr. Richard K.S. Wong, one of the team of Get Set, Go! Phonics writers who had flown in from Hong Kong for the ceremony. Describing the moment as his dream come true, Richard explained that what made this moment even more special was because he grew up in an underprivileged neighbourhood in Hong Kong with little access to the English language. His journey in learning English entailed him listening intently to policy speeches made by politicians in Hong Kong and imitating what they said by pretending to be a politician. It was great to see that all those years of hard work had led him to collect his award in front of an international audience on the ELTons stage.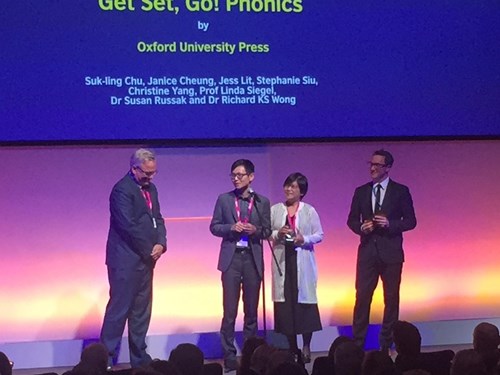 Dr Richard K.S. Wong giving an emotional acceptance speech
Excellence in Local Innovation
The winning product in this category was EAL Assessment Framework for Schools (The Bell Foundation, with Professor Constant Leung of King's College London; Dr. Michael Evans and Dr. Yongcan Liu of Cambridge University). The product provides an assessment framework for students from diverse language and educational backgrounds, not just for screening and reporting purposes, but also for curriculum support. The framework enables primary and secondary school teachers to support the teaching and learning of EAL (English as an Additional Language) while tracking progression and recognizing EAL achievement in pupils. An extensive project that is founded on solid research and evidence, it provides comprehensive proficiency descriptors that can help students make the progression needed to integrate more effectively into the local education system.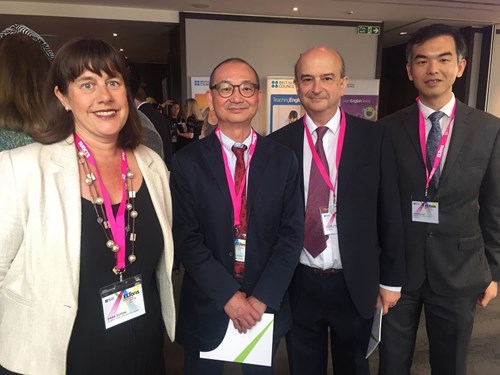 The people behind EAL Assessment Framework for Schools
Innovation in Learner Resources
Tim's Pronunciation Workshop (BBC Learning English) took the award in this category for their fun but insightful take on English pronunciation. Designed as a series of 30 entertaining online videos, Tim takes the viewer into his shed, where he focuses on different features of pronunciation with the use of vox pop video clips, and proceeds to unpack them using digital techniques like slow-motion and on-screen animation whilst maintaining a cheeky but charming manner throughout. Accessible for free on YouTube and the BBC Learning English website, Tim's Pronunciation Workshop taps into the sensibilities and short attention span of the YouTube generation, and it looks like it might be the next trending resource amongst English learners and newly qualified English teachers.
Innovation in Teacher Resources
PronPack 1-4 (Mark Hancock) emerged as the winner of this highly-competitive category with its set of four teacher resource books and accompanying website. With worksheets that helps learners work on their pronunciation through puzzles, games and poems, this product is innovative in it approach, emphasizing intelligibility over the acquisition of a native-speaker accent. With a clear understanding of how English is used these days as a global lingua franca, PronPack 1-4 prides itself in being non-prescriptive and makes a distinction between essential pronunciation features that make communication clear and less ambiguous and superficial features that might serve to offer a socio-cultural flavor to language.
In his inspirational acceptance speech, Mark Hancock talks about how great it is to receive this award as a self-publishing author as self-publishing can often be a lonely place. Mark then dedicates the award to all self-publishers and would-be self-publishers, urging them to be ambitious and to get on and do it because they have never been more necessary and needed.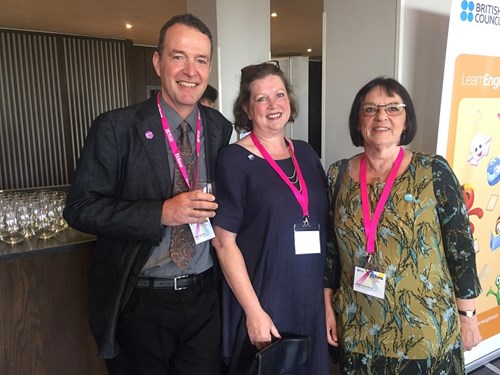 Mark Hancock, Amanda Hancock and Annie MacDonald who all worked on PronPack 1-4
Lifetime Achievement Award
This award went to Tessa Woodward. No stranger to most in ELT, Tessa is a woman with many achievements: ELT consultant, teacher, teacher trainer, author and writer of many books, founder editor of the Teacher Trainer Journal for Pilgrims, past president of IATEFL, founder of the Teacher Trainers' SIG (Special Interest Group) at IATEFL, and founder of the Fair List.
In her acceptance speech, Tessa talks about how lucky she is to speak a playful language like English (fantastically exemplified by host Susie Dent's witty language play all through the evening), how lucky that she has lived all through the age of digital advancement in language learning and teaching, how lucky she is to see the way teacher training has been developing in her time, how lucky she has been to have been given jobs and chances by her different employers, how lucky she has been with the culture in which she was born and having the opportunities as a woman to do as much as she can, and last but not least, how lucky she is to be in the ELT profession – an industry that is always trying to innovate and improve so as to make things better for language students, teachers, and for people who are differently-abled.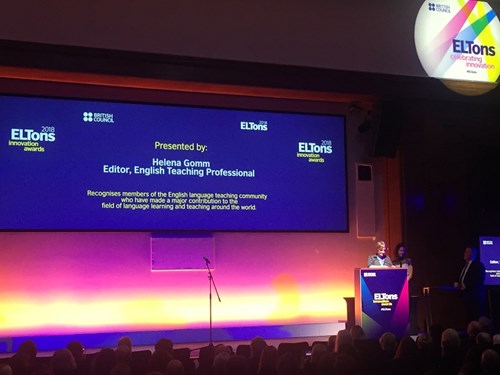 Our chief editor, Helena Gomm, in her introductory speech, about to present the Lifetime Achievement Award
And so there we have it, the winners of the ELTons 2018, an evening to inspire us all to get innovating and play our part in this wonderful industry and community that we have the fortune of belonging to.
Click here to watch the recording of the ELTons ceremony online.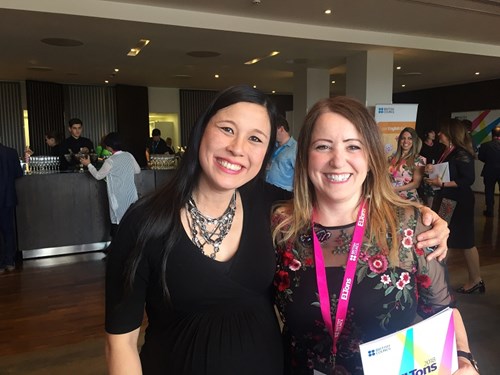 Catching up with Pavilion Publishing's new Head of ELT, Kirsten Holt, at the ELTons