A book I've used - English for Academic Study: Grammar for Writing (Study Book)
Modern English Teacher, 25 (1), January, 2016
Anne Vicary
Garnet Education 2014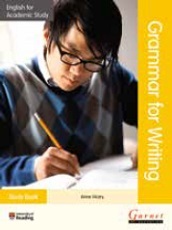 I have never come across anything comprehensive on the grammar needed for academic writing … until now. The Introduction states that this course 'will be useful for you if you are preparing to study at an English medium university or college, or if you are already studying in an English speaking academic environment …'. As a study book, it is designed to be used by the learner in the comfort of their own space, working at their own pace, but it could also be used by a teacher in an Academic Writing class. Certainly, in my university environment, by the end of the semester it had given my students a solid grounding in the grammar they need for written assignments, including the fundamentals of text cohesion and coherence.
Each of the nine units is divided into three parts (stages) and an end-of-unit self-check test. Stages A and B aim to expand students' knowledge and Stage C is an extension and practical review section. Before the first unit there is a useful glossary of grammatical terms (with definitions and phrase/sentence examples) and there are four appendices at the back of the book: articles; describing data; referring to academic sources; and a sample student essay. There is a strong correlation between the structure of the book and helping students put their ideas down on paper (or screen) and produce a clear piece of writing. It is not by accident that S-V agreement and verb forms are followed by cohesion devices of all kinds, then the shades of meanings of modal verbs, leading to impersonal sentence structures, relative clauses, and text coherence on a larger scale. The book starts at a relatively simple level and gets progressively more challenging.
Layout, colour, and an appropriate typeface can do much to aid the learning of grammar (not only for the visual learners), and I like what has been done here. The use of colour in tables and to draw students' attention to different phrases and clauses is well-judged.
Students needing an Answer Key will find one available as a download on the English for Academic Study website but with my first-year English major students (90 minutes, once a week) I went over the answers with them in class. What I particularly liked was that the grammar points blended perfectly with the development of writing skills. My students are in their first year – they have just finished high school and are at the very beginning of their university course – and sadly even the stronger students struggle with the difference between cohesion and coherence, which is precisely why they found this book indispensible. In my context, I would recommend the book for use throughout the whole first year because of its many student-friendly explanations, its extensive practice exercise, its focus on problem areas in student essays and its example texts.
The authentic texts – from newspapers, journals – are good too. Topics are real-life and contentious (on climate, tourism, online communication tools). I also like the supplementary activities on the website, separated into student resources and teacher resources. What I would have liked more of, though, is several more sample student essays of the kind found in Appendix D. The only one given, analysed in great detail, was not enough for my classes. More examples like this would really help.
Nevertheless, by the end of the semester I noticed great improvements in my students' ability to use a variety of grammatical structures and vocabulary. They also took better care in their use of register and made sure their writing cohered. As the author says in the introduction: 'Strong academic writers display good understanding and use of grammar: it is impossible to produce an academic essay of a high standard if grammatical knowledge is weak. Grammar is important!'