Equipping students with basic qualitative research skills
Modern English Teacher, 29 (1), January, 2020
Introduction
It has been 10 years since I and my colleague were asked to design an EAP/ESP course for second- to fourth-year university students at the Japanese institution where I work. The original conception was to offer a higher-level course (CEFR B1–B2) to students who had excelled in their English studies during the first year. The programme was named 'ALPS', and split into two discrete foci: Academic Learning (AL) and Professional Skills (PS). At the end of the first year of their study, students can apply to take the twice-weekly ALPS elective course. They are given a short written and oral proficiency test, which is based on IELTS. Students are then selected by the teachers for ALPS based on their performance in the test.
The 'AL' strand of ALPS is a general EAP (EGAP) course that focuses on developing 'the skills and competencies which reflect academic practices' (de Chazal, 2014: 16) within the social sciences. The aim is for students to be able to obtain, understand, analyse, evaluate, synthesise and create knowledge via research and then communicate their findings to others through various media in English. The main assessment component of 'AL' is for students to undertake a half-semester-long (7-week) or semester-long (14-week) project. Students are given the freedom to decide on their research topics with the stipulation that their chosen themes have some perceived importance and value for the intended audience and that they are indeed researchable; in other words, the topics are not 'beyond the time and means of students to research' (Boon, 2014: 16). In the final week of the semester, students submit a 1,000-word assignment to the teacher. They also give a 5–10-minute poster presentation, based on their research findings, three or four times to a revolving audience of their classmates (Boon & Stevens, 2010).
To help support the successful completion of their 'AL' projects, students are taught primary and secondary data collection skills throughout the course. This article will describe how students are equipped with two basic qualitative research skills that they can use to collect primary data for their research.
Conducting questionnaires
Questionnaires can offer students a convenient means to obtain primary data. Questionnaires are relatively easy to construct, easy to disseminate, and (usually) straightforward for respondents to complete. However, as a research tool, they can often yield unreliable, simplistic, biased and/or mistaken responses (Dörnyei, 2003). With this in mind, an important first step can be to give students example questionnaires to analyse, introduce students to the various question types that may be used in a questionnaire, and have them consider the advantages and disadvantages of each one.
In my 'AL' classes, for example, students are introduced to a theme they are familiar with: facilities at the university. They make a list of the different places they know (e.g. the cafeteria, the classrooms). Then, they examine an example questionnaire created to elicit student responses about the university library (see Figure 1). Once students have read through it (an optional activity is for them to answer it), six types of questions are explained that can be used in questionnaire design (see Table 1). Students then match each type to the questions in the questionnaire.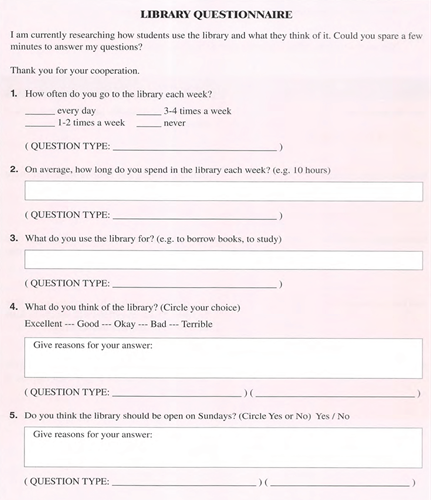 Figure 1: Library questionnaire (Boon, 2015: 10)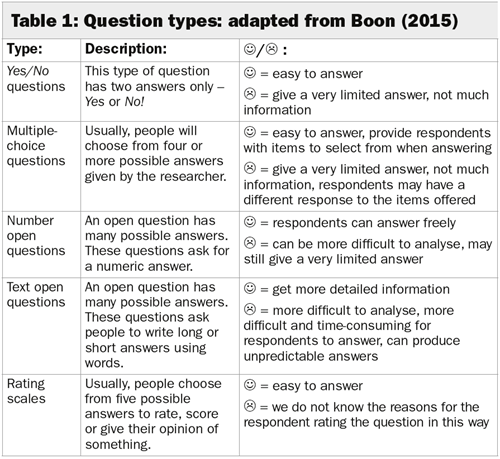 Next, students work together in small groups to consider the pros and cons of each question with regards to it eliciting quality data. In Table 1, suggested answers have been provided in the final column for this activity. When making a 'Question type' worksheet for students, however, this information should be left blank for students to complete during their discussions.
The next step is for students to choose one of the facilities at the university that they listed earlier and design their own questionnaire. Online survey software such as 'SurveyMonkey' (https://www.surveymonkey.com) can facilitate the survey creation and distribution process, is easy to use and often provides support in the learners' L1. Once they have created their questionnaires, students should first pilot them with their classmates to determine the quality of the responses they receive. Modifications can then be made to questions that yield limited or incorrect answers (e.g. adding a 'Text open' box to a 'Yes/No question' to elicit reasons for a respondent's answer).
Once students have collected their questionnaire data, they need to be able to analyse the results. SurveyMonkey has a very useful feature in which the more quantitative-style data (e.g. how many 'yeses' and 'nos') is automatically calculated and visually displayed. However, the qualitative responses are just listed and need to be analysed and interpreted by students. To introduce students to the process of qualitative analysis, I randomly list groups of simple to more complex lexical items or phrases on the board. Students then work in pairs to categorise them – see the example in Table 2).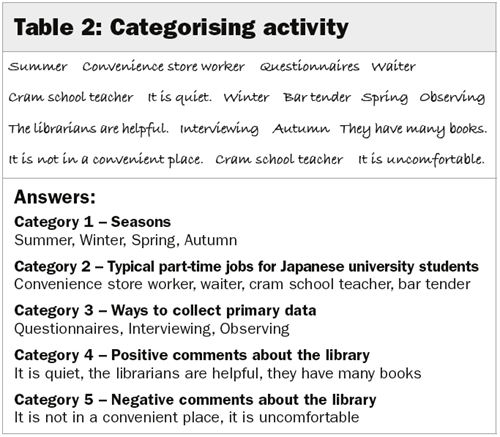 After the activity, students work to analyse their own questionnaire data, share their results with the class and get feedback on their categorisation skills. Through these various steps, students can learn how to construct effective questionnaires, how to distribute them and how to evaluate them. Students may then choose to utilise this tool, if appropriate, when collecting primary data for their 'AL' projects.
Interviewing
Although interviewing can be more challenging and time-consuming for students, it offers them the opportunity to obtain primary data for their research projects from a variety of people via real-time or face-to-face interaction. Unlike a questionnaire, an interview is a fluid, co-constructed event that allows for an effective interviewer to probe for more detailed and complete responses from interviewees (Richards, 2003).
In my 'AL' classes, to practise interviewing, students are introduced to a simple research theme: 'happiness.' The first step is for them to consider who they would interview to elicit information on this topic and their reasons for interviewing (e.g. foreigners living in Japan – to find out what they liked about Japan). After students have listed potential interviewees, they rank them according to ease of access: how easy or difficult it would be to interview the people and the reason why (e.g. prime minister of Japan – very difficult – I wouldn't get an appointment / Students – very easy – I can interview them in the English lounge).
In a semi-structured interview format, interviewers have a series of questions to ask but may deviate from the plan in order to elicit follow-up information from each interviewee (Bell, 2010). The next step for my 'AL' students is to examine a transcript from a semi-structured interview on happiness (see Figure 2) to determine which questions were planned (Lines 3, 5, 7, 9, 13 & 17) or unplanned (Lines 11 & 15) by the interviewer, and to consider why each question was asked.
The importance of explaining one's research and asking permission to interview at the beginning (Figure 2: Line 1) and thanking the interviewee at the end (Figure 2: Line 19) can also be drawn attention to in the transcript. Next, students can plan their own interview questions related to happiness and pilot them with a partner.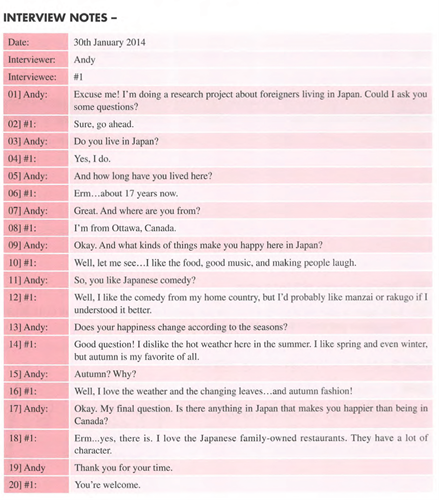 Figure 2: Interview transcript from Boon (2015: 26)
Unlike questionnaires, there are no written records for the researcher when conducting interviews. Thus, my third step is to elicit from 'AL' students ways to record interview data and for them to discuss the pros and cons of each method (see Table 3).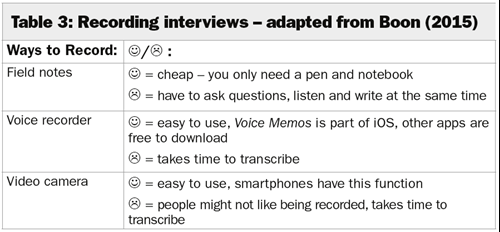 Next, students select the best means for them to record data (I usually suggest they use voice recorders so they can focus on asking the questions) and interview their classmates with the 'happiness' questions they have piloted earlier. Using the transcript as an example (Figure 2), students then consider the basic information that should be included when transcribing interview data:
Interview date
Interviewer name (in case students do pair projects and there is more than one interviewer)
Interviewee name (or number/pseudonym to protect the identity of the interviewee)
line numbers
Students may transcribe their 'happiness' interview data in class or it may be completed as a homework task.
The final step is for students to analyse their transcripts and begin to build categories for the qualitative responses they have obtained. Once again, the transcript (Figure 2) can be used to help students with the categorisation process by providing them with examples. For instance, interviewee #1 prefers restaurants in Japan to her home country as they have more character. Thus, 'Restaurants' emerges as a category for this question.
As with questionnaires, by teaching students the various steps to conducting, transcribing and analysing interviews, they may choose to make use of this research tool when collecting primary data for their 'AL' projects.
What my students think
I conducted a short questionnaire via SurveyMonkey with my 'AL' students to elicit information about their perceived importance of learning primary data collection and potential problems they had experienced with it. Unfortunately, the response rate was rather low. Six current and five graduate 'AL' students replied:
Did primary data help you with your 'AL' project? Give reasons for your answers.
All of the 11 respondents indicated that primary data had helped them with the successful completion of their projects. Students commented that primary data enabled them to obtain opinions to support their main theses and to understand, compare and 'empathize with other people's thoughts' (Respondent 10). It also aided their research when they were unable to find many secondary data on their chosen topics. They were then able to obtain primary data that were specific to their particular research foci:
'We can't just use secondary data and write essay from tons of information – primary gives us more specific.' (Respondent 4)
Did you experience any problems while collecting primary data? If yes, what problems did you experience?
Four respondents stated they had had problems collecting primary data. Two students mentioned that primary data collection was difficult:
'It was quite hard to make proper questions.' (Respondent 5)
and that they needed more support. Respondent 1 commented that it had been difficult to obtain enough responses for their research (a problem that can occur for experienced researchers). Finally, Respondent 10 admitted to wishing to avoid interaction with others so tended to rely on 'my experience more often' when presenting on and writing up their 'AL' project.
Do you feel that primary data skills will help you after graduation? (If graduated, have primary data skills helped you in your job?)
All of the 11 respondents stated that primary data collection skills had value for them. Current 'AL' students commented that the skills would be useful in the future when interviewing or working in marketing and sales. They also believed that they contributed to their development of important '21st-century workplace skills' such as communication and collaboration:
'It is going to be easy for me to get along with colleagues as I do to need to be afraid of asking someone.' (Respondent 7)
Of the five graduate 'AL' students, one is currently undertaking postgraduate studies and stated that the skills had helped him with his master's level research. The other four respondents are in employment and commented that the 'AL' primary data lessons had been useful as they felt more able to ask colleagues for new information, to research customer satisfaction, to interview people and to learn from others. One respondent even commented that data collection was an integral part of their job:
'Currently, I am under business development at a recruitment agency. Primary data skill is necessary whenever I go to my client meeting, Marketing discussion. I made my own manual regarding collecting data to make it easy.' (Respondent 3)
Conclusion
This article has briefly outlined a general EAP course (EGAP) for intermediate-level students at a Japanese university. It has focused on the methods used to equip the 'AL' students with two qualitative research skills (conducting questionnaires and interviewing) in order to support their successful completion of a research project. Comments from 'AL' students have also been included to help illustrate the importance of teaching primary data collection skills to students on EGAP courses and highlight some of the problems that may be experienced during the research process. As teachers, it is essential to provide our students with the right tools that they need for the tasks that we assign them. It is hoped that these tried and tested techniques for teaching primary data collection may help your students as they take their first (or maybe second) steps into academic research using the L2.
References
Bell J (2010) Doing your Research Project (5th edition). Maidenhead: McGraw-Hill Open University Press.
Boon A & Stevens S (2010) Student poster presentations: teacher and learner perspectives. Modern English Teacher 19 (4) 36–42.
Boon A (2014) Exploring worlds outside: students as researchers. The Language Teacher 38 (4) 15–18.
Boon A (2015) Research and Write. Tokyo: Macmillan Languagehouse Ltd.
de Chazal E (2014) English for Academic Purposes. Oxford: Oxford University Press.
Dörnyei Z (2003) Questionnaires in Second Language Research. New Jersey: Lawrence Erlbaum Associates Inc.
Richards K (2003) Qualitative Inquiry in TESOL. London: Palgrave Macmillan UK.
---
Andy Boon is a professor in the faculty of Global Communications at Toyo Gakuen University, Tokyo. He has been teaching in Japan for over 20 years. He holds a PhD in Applied Linguistics from Aston University. He has presented at numerous domestic and international ELT conferences and has published many articles on teacher development, motivation, and methodology. He is author and co-author of various coursebooks and graded readers. andrew.boon@tyg.jp