Feeling energized after IATEFL 2014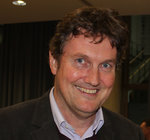 Continued learning just one of many highlights of an action-packed IATEFL 2014, says MET's editor Robert McLarty.
Due to teaching commitments in Oxford, I could only get up to IATEFL for one day this year but even that short time gave me a chance to get up to speed with what is happening in ELT, see some directions it is going in and meet the annual mix of new and old friends. A number of people like Rachel Appleby, Louis Rogers, Lewis Lansford and Edward de Chazal had written articles for Modern English Teacher and it was great to catch up with them and share a doughnut at our event.
I started, as usual, in the exhibition area where the larger publishers and exam boards dominate, but I was pleased to see the smaller players having a lot to shout about. Publishers had books on their stands and the overall impression was that that was what they did best. We are moving quickly, however, into a world where publishers don't have a monopoly on content delivered in classrooms and it is good to see a number of alternatives are now on the market.
A number of the speakers at Harrogate had spoken at my first IATEFL a quarter of a century ago but I was pleased to see that their contributions were as up-to-date as possible and were not simply churning out the same stuff to a newer audience. Likewise, it was good to see new people presenting for the first time and making sound comments based on their own reflections. One of the undoubted joys of ELT is that you can start to see solid results from your classroom research after a relatively short period of time allowing quite inexperienced teachers to have an equal opportunity to air their thoughts and views. As editor of Modern English Teacher this is just the sort of teacher I am looking out for.
Opportunities to network were continually available and I was pleased to make a few introductions, although I also managed to miss at least five people I had promised to meet up with. Twitter and Linked-In will put that right I am sure. Despite seeming to get bigger every year, IATEFL remains a very friendly event with great professional appeal. From the plenaries to the smallest workshops there is always something to learn. I could return to my group of pre-Masters Japanese students on the Friday and tell them I had attended a session on listening by a leading academic who argued that the IELTS technique of giving the questions before they listen is actually acting against the interests of the learner trying to listen. That was so reassuring for them and a perfect example of how IATEL acts as a bridge from theory to classroom.