For Real Plus (Student's Book & Workbook, Starter Book and Skills Book).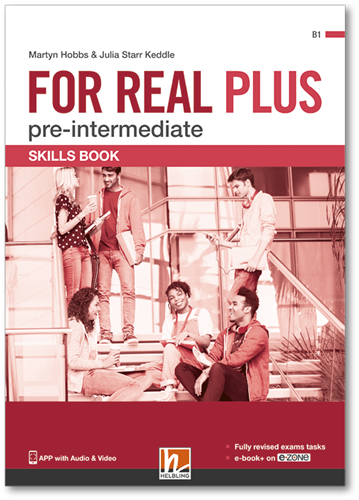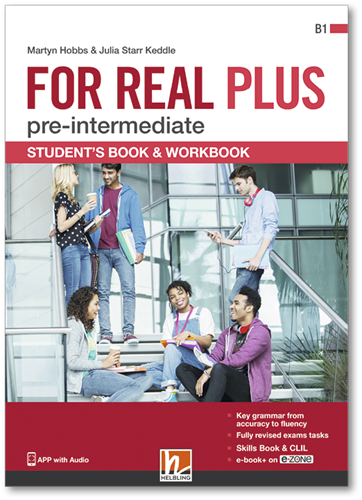 Helbling 2019
Martyn Hobbs and Julia Starr Keddle
The first thing that struck me about the Helbling For Real Plus books, is that for each level there is a combined Student's Book & Workbook, which is very useful as I have often encountered the problem of learners leaving one of the two at home, and a Starter Book and a Skills Book for each level. So, there is certainly no shortage of resources to keep both the learner engaged and challenged. This is of course in addition to access to the Helbling ezone digital materials via their website where learners can access the e-book and supplementary activities like the Cyber Homework. There is also the free Helbling Media App that enables learners to watch and listen to the full audio and video content while on the go.
Throughout the books, the content, which is available through the Helbling Media App, is marked with an icon. This is a fantastic way to allow learners the autonomy to manage the audio and audio-visual content themselves while in the classroom, and of course listen and watch again in their own time to reinforce their learning. Other useful icons throughout the Student's Book & Workbook are the P: which denotes activities specific to the Cambridge ESOL tests (at the relevant level), and the T: which marks activities that are useful for working towards the Trinity ISE and GESE exams and the relevant level.
The way each unit is laid out lends itself to the name of the series, For Real. The focus is emphatically on real communication and real language skills. So, for example, in the pre-intermediate Student's Book & Workbook, the unit entitled 'Danger' looks at how to stay safe in emergency situations, yet it skilfully intertwines Netiquette and Digital talk into the Real Communication section, and The Real Skills section looks at World cultures. Each unit also includes a handful of Real Talk phrases like: Count me out, I get the message and It'll be a laugh, which are incorporated into the 'On the road' audio series which has an episode per unit and is a storyline that is continued throughout the book.
All the books in the series are easy to navigate, well presented, and frankly make the idea of learning English with them appealing. The topics are varied and more importantly, the skills, language and contexts are 'For Real'.
Kat Robb
Kat Robb is a teacher, trainer and writer based in Sitges, Spain. She is passionate about educational technology.