From EFL to EMI trainer: some reflections
Modern English Teacher, 29 (1), January, 2020
Introduction
Increasing numbers of universities in countries where the first language is not English are offering academic courses through the medium of English. This has resulted in unprecedented demand for lecturers from these countries to acquire both improved English language proficiency and new teaching methodology skills. This, in turn, has opened up opportunities for EFL teacher trainers to broaden their skills and expertise and become involved in EMI (English Medium Instruction) teacher training. In this article, three trainers from the British Council China reflect on their experience moving into EMI teacher training and the challenges involved in making this transition. The article briefly discusses the growth and nature of EMI in higher education institutions and provides practical advice for preparing and delivering EMI teacher training courses.
What is EMI?
EMI has been defined as 'the use of the English language to teach academic subjects in countries or jurisdictions where the first language (L1) of the majority of the population is not English' (Dearden, 2014: 2). Recent years have witnessed the internationalisation of universities worldwide, and this has become a priority of higher education institutions (HEIs). HEIs in 'non-native' English-speaking countries make efforts to internationalise and strengthen their global competitiveness, and there has been an increased focus on establishing – and extending – English Medium Instruction (EMI) courses and programmes for non-language subjects. This growth has spread to many parts of the world to the extent that EMI has been described as 'the most significant trend in educational internationalization' (Chapple, 2015: 1). EMI captures content and language integrated learning (CLIL) under its description, which is mostly associated with primary and secondary education. However, in many EMI universities language support is also integrated into curricula.
Background
Owing to the growth of EMI, an increasing number of EFL teacher trainers are being asked to branch out into EMI teacher training. In the last year as consultant trainers at the British Council in China, this is a transition that we have been required to make. Starting to train EMI content lecturers is likely to be a daunting prospect and adjusting to this new context will present challenges for most language teachers, especially if their previous focus has not been in tertiary environments. However, pedagogical principles central to language teaching also apply in many EMI contexts and sound knowledge of these can aid with a smooth transition from language trainer to EMI trainer. In this article, we reflect upon some of the demands and challenges of EMI teacher training.
Needs analysis
Before delivering any EMI training it is essential that a needs analysis is carried out by the institution delivering the training and made available to the EMI trainer. This is because 'there is no one-size fits all approach to EMI and an in-depth understanding of both the context and the needs, and attitudes, of key stake holders is essential to ensure successful implementation of EMI' (Galloway et al, 2017). Factors the trainer needs to account for when planning a training course include the teachers' language level, range of content specialisms, current understanding of EMI and years of experience teaching EMI. It is wise to find out about their students' backgrounds, too. Important aspects to consider here are whether they will come from the same country and hence first language background as well as what their expected English language level will be. This will help the trainer consider the kinds of approaches to language input they promote with teachers. For example, bilingual approaches might be more suitable to homogeneous student groups with low proficiency.
In our experience of EMI teacher training in China it is often the case that we receive class profiles of mixed needs and expectations. Language levels of the teachers may vary, and we usually work with classes of teachers from a range of content backgrounds. The challenges are numerous. Some teachers are likely to mention that their learners' low English language proficiency means they struggle to understand lectures in English, whilst others may have groups of mixed-ability or higher-proficiency multi-national groups of learners. Furthermore, research into student and teacher attitudes towards EMI in Japan and China have shown that whilst many students see EMI as 'a tool for learning English', the majority of teachers are likely to see it as an 'instructional approach to content learning' (Galloway et al, 2017). What is more, research in Japan has shown that students feel that they learn more slowly in L2 than L1, even with high L2 proficiency (Rose et al, 2019). All this makes it important that the trainer clearly defines EMI and its challenges on the first day of training and links activities and outcomes to the group's perceived needs. This is something that trainers can encourage EMI teachers to do with their learners too.
"However, pedagogical principles central to language teaching also apply in many EMI contexts and sound knowledge of these can aid with a smooth transition from language trainer to EMI trainer."
Planning and delivering EMI training courses
Having to account for diverse groups of EMI teachers makes planning a training course more challenging and this is compounded by the fact that there is very little in the way of published materials for EMI teacher training to draw from. The topics covered in EMI training courses can be broadly classified as language or pedagogy related. We will briefly discuss specific topics from these categories:
Responding to language needs
EMI lecturers may lack confidence in their own linguistic ability. If so, it is likely they will appreciate spending time working on language skills. EMI lecturers operate within a set of clearly-defined recurring contexts, e.g. lectures, seminars, tutorials, giving evaluation and feedback. Owing to this, a functional approach to teaching language may well pay dividends. Chunks of language that occur frequently in each of the situations could be introduced, analysed and practised.
Pronunciation and teaching English as an international language
Pronunciation skills are another common concern of EMI practitioners. It is important to emphasise that their focus needs to be primarily on clarity, rather than trying to sound like a native speaker as, in our experience, there still seems to be a widespread conception amongst many EMI lecturers that it is important to speak with a standard English accent. In an approach to teaching pronunciation in the context of English as an international language, productive pronunciation features that have most impact on intelligibility include problematic individual sounds, sentence stress and vowel length. Another area worthy of focus is appropriate chunking, with emphasis on pausing in appropriate places to help learners process meaning.
Considering input
Given that EMI lectures will involve learners listening to a teacher for extended periods of time in a foreign language on academic content, it is important that attention is paid to teachers' language input. In academic genres, language structures are often dense with frequent nominalisation and grammatical metaphor (turning action verbs into complex noun phrases and actions into products). This poses heavy cognitive demands on the listener and teachers should be encouraged to use less dense language structures that convey the same meaning. Strategies that make discourse easier to follow should also feature. These may include fronting, or 'placing the topic of a sentence towards the front so the rest of the sentence will not remove focus from what is actually being discussed' (Baird, 2017) and use of a subset of discourse markers that learners are familiar with to signal summaries and transitions.
Teachers can also practise grading their vocabulary using tools such as online learner dictionaries that show frequency or CEFR level of vocabulary items, e.g. Longman Dictionary of Contemporary English, Cambridge Learner Dictionary or English Vocabulary Profile. The last of these allows users to filter words according to level and topic. At the same time, awareness can be raised on the notion of comprehensible input, which stipulates that some words in a sentence can be unknown without impacting learners' comprehension of the sentence they occur in. This is particularly important because complex academic concepts may be impossible to convey using sentences that consist only of simple words. This point raises an important consideration that EMI teachers and teacher trainers should be aware of – simplifying language to explain academic concepts may only lead learners to acquire a superficial understanding of them.
The fact that basic language might not be able to convey the full meaning of advanced concepts is a reason why EMI lecturers should be encouraged to consider using the L1 to help explain complex vocabulary (if they have a class where all learners share the same native language). It has been shown that providing translation or short L1 paraphrases of unknown vocabulary in the L1 has a positive effect on its acquisition in a second language. Teachers should be wary of how much they are switching to the first language though, as too much use would minimise affordances for learners to acquire English during a content-focused lecture.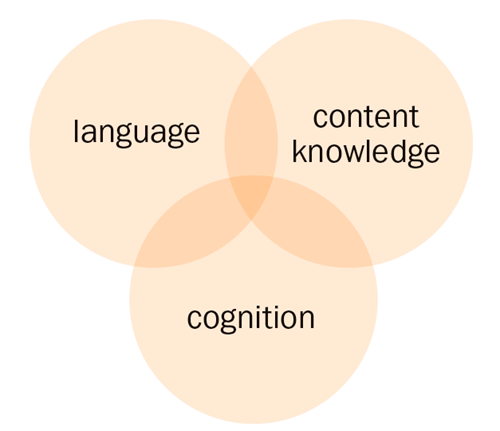 What techniques might EMI teachers be encouraged to use to explain complex concepts in situations where language proficiency is an issue and the teacher or classmates do not all share the same mother tongue? Encouraging the use of visuals when possible is one obvious way, and this can lead into a discussion on accounting for different learning styles. EMI teachers can also be encouraged to find, use and even create metaphors or analogies that help explain concepts by linking the abstract to the concrete. Furthermore, Venn diagrams provide an excellent way of visualising overlaps between concepts and are something that teachers from a range of disciplines should be able to create. The Venn diagram above shows the overlap between three fundamental components of EMI:
Promoting interaction
Whilst transmissive lecture styles still dominate in most universities around the world, there is increasing recognition of the value of interactive practices such as seminars, group and pair work and including lots of teacher interaction with learners during a lecture. Even in countries where tradition has emphasised teacher-centred practices such as China, many lecturers seem to be open to the idea of incorporating learner-centred techniques such as debates, mingles, information gaps, jigsaw reading activities and so on. These activities can quite easily be modified to give them a content focus rather than a language focus. Trainers from an EFL background should be able to offer significant expertise helping teachers to apply these techniques. At the same time, trainers should be aware that a content lecture will probably continue to retain a higher ratio of teacher talk than student talk and we should not expect content teachers to adopt a 'full-on' communicative language teaching approach. This will be especially important to emphasise to any lecturers who do not take well to being asked to step out of their comfort zone and try out new techniques.
Other areas of relevance to lecture interaction may be less familiar to EFL trainers. In higher education contexts, critical thinking and scaffolding of concepts is essential for effective learning. It is important for trainers to consider the kinds of questions that teachers should ask and encourage learners to ask each other. Bloom's taxonomy is a useful resource that can help teachers visualise and plan deeper questions that encourage high-order thinking. Therefore, it is important that trainers become familiar with this, promote it with EMI lecturers, and give them practice applying it to both higher and lower order questions and their task design.
Learner autonomy
That university learners will be self-directed and independent in their studies is assumed in Western cultures. However, such characteristics might not be expected or encouraged in some contexts. This places more emphasis on the teacher to explicitly model independent study routines and strategies, and encourage learners to take responsibility for them. For example, EMI teachers could model the use of online tools that help learners to understand language and concepts such as online corpuses, wikis, thesauruses and dictionaries. They could demonstrate how such tools provide opportunities for learners to apply learning strategies such as making flashcards and visual representations such as mind maps, associating and comparing words and concepts, and even setting homework tasks that require learners to apply the methods they have witnessed themselves. In order to encourage teachers to do this, EMI trainers will need to introduce key tools and strategies and ask teachers to evaluate and demonstrate how they could model them for their learners.
Metacognitive strategies encourage learners to reflect upon their learning processes and their progress. This kind of reflection and self-evaluation is something that EMI trainers can build into their courses so that EMI teachers can directly experience it. Trainers can make such strategies explicit by modelling how to analyse a text or solve a problem. We may also ask the lecturers questions about how effective they think the techniques they try out during the training are, and how they might be improved. This also provides an opportunity to promote and scaffold the use of high-order thinking skills and make EMI lecturers aware of the importance of these methods to their teaching practice.
Microteaching
Microteaching provides an opportunity for lecturers to try out techniques they learn on the course and should therefore be a practical component of any EMI training programme. EMI teacher trainers may consider creating self-evaluation worksheets for the teachers to encourage self-reflection. They should also receive feedback from peers and the EMI trainer.
Appendix 1 contains the microteaching observation feedback document that we have developed at the British Council China and outlines what we feel are some of the most important areas that EMI lecturers should consider when delivering lectures, many of which have been discussed in this article.
British Council EMI training approach
The British Council in China has been implementing a three-stage model to EMI training. Following five days of input and microteaching practice, lecturers plan and record themselves delivering part of an EMI lecture. Videos of the lecture are submitted and evaluated, and feedback is given during a remote tutorial. A third stage of face-to-face training follows, which aims to respond to needs identified during the first training and video lectures and give further input on effective lecturing techniques. This three-staged spaced intervention approach has allowed us to support and document positive transformations in many Chinese lecturers' ability to deliver well-staged and interactive lectures in English.
Conclusion
The phenomenon of EMI in higher education has been described as an 'unstoppable train' (Macaro, 2015) as increasing numbers of universities around the world seek to offer taught courses in English. There will certainly be many more EFL trainers making the transition from training English teachers to EMI lecturers in the coming years and they must deal with the challenges that come with such a transition. Whilst this might seem like a daunting prospect, in many contexts there are likely to be overlaps with training school teachers and teaching general academic courses such as EAP (English for academic purposes). There will be challenges, and new trainers might need to develop new areas of expertise in fields such as critical thinking and managing groups of lecturers with a diverse range of needs and opinions. Nonetheless the EMI phenomenon provides an excellent opportunity for teacher trainers to broaden their horizons and develop new skills.
Useful links
University of Southampton EMI for Academics MOOC: https://www.futurelearn.com/courses/emi-academics
Teaching English & Teaching in English in Global Contexts EMI practitioner network http://www.globalenglishes-emi.education.ed.ac.uk
Appendix 1
Key: (F) Focal point (T) To expected standard (E) Exceeds expected standard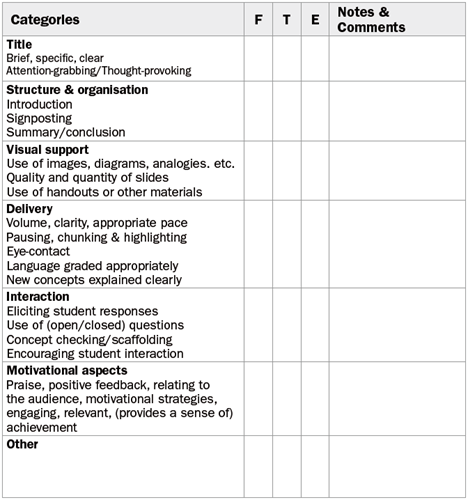 Lecture summary: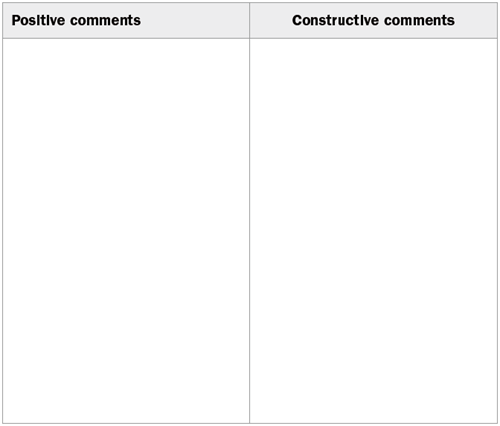 References
Baird R (2017) The effect of complex language on intelligibility. Retrieved from: University of Southampton EMI for academics MOOC: https://www.futurelearn.com/courses/emi-academics/4/steps/408580
Chapple J (2015) Teaching in English is not necessarily the teaching of English. International Education Studies 8 (3) 1–13.
Dearden J (2014) English As a Medium of Instruction. The British Council ELTRA Reports 1–35.
Galloway N, Kriukow J & Numajiri T (2017) Internationalisation, higher education and the growing demand for English: an investigation into the English medium of instruction (EMI) movement in China and Japan [online]. Available at: https://www.teachingenglish.org.uk/article/internationalisation-higher-education-growing-demand-english-investigation-english-medium
Macaro E (2015) EMI: Time to start asking some difficult questions. Modern English Teacher 24 (2) 4–8.
Rose H, Curle S, Aizawa I & Thompson G (2019) What drives success in English medium taught courses? The interplay between language proficiency, academic skills, and motivation. Studies in Higher Education 1–14.
---
Frederick Gay, Fraser Bewick and Thomas French work as senior consultant trainers for the English for Education Systems department of the British Council China.