Helbling Readers
Modern English Teacher, 28 (4), October, 2019
Helbling Readers
Various authors and titles, including:
The Adventures of Dr Dolittle, Hugh Lofting, Helbling Language 2019. A1
Dan and the Village Fête, Richard MacAndrew, Helbling Language 2015. A1
A Connecticut Yankee in King Arthur's Court, Mark Twain, Helbling Language 2019. A1/A2
Kim, Rudyard Kipling, Helbling Language 2019. A2
David and the Black Corsair, Martin Hobbs, Helbling Language 2011. A2
The Invisible Man, HG Wells, Helbling Language 2019. A2/B1
Dracula, Bram Stoker, Helbling Language 2011. A2/B1
The Age of Innocence, Edith Wharton, Helbling Language 2019. B1
See page 88 for details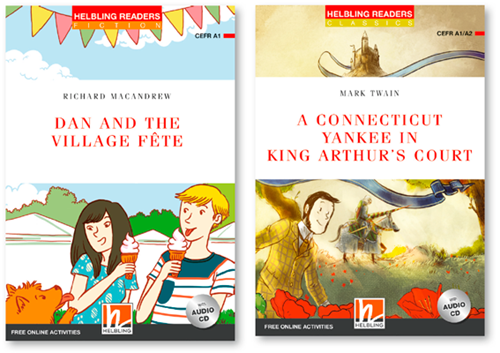 You might think it brave – increasingly a synonym for reckless – for a publisher to be expanding its range of simplified readers as we lurch towards the third decade of the 21st century; after all, nobody reads much these days, do they? I mean, especially those fibre-based olde-world artefacts that don't fit into your pocket and you can't even take photos with. The kind of thing your grandparents have, gathering dust and harbouring insects. You might be surprised then, to read what TIME magazine had to say on 9 January 2015:
'British book stores have good news for bibliophiles, reporting that more people have been buying physical books recently. What's more, sales of e-readers have apparently slumped according to their reports. Waterstones, a UK book store chain which also sells Amazon's Kindle, told the Financial Times that demand for the e-reader has all but disappeared.'
In a similar vein, The Guardian reported on 14 March 2017 that:
'Readers committed to physical books can give a sigh of relief, as new figures reveal that ebook sales are falling while sales of paper books are growing – and the shift is being driven by younger generations*.'
(*my emphasis)
Fortune, on 24 September 2015, though, gave some thought-provoking context:
'Some of the e-book slump amounts to chickens coming home to roost for traditional publishers. They have been fighting to keep e-book prices high – to the point where they engaged in industry-wide collusion with Apple in an attempt to do so – and they eventually managed to convince Amazon to let them set prices. Is it really such a surprise that higher prices lead to people buying fewer e-books?'
So maybe Helbling have been doing their homework. Indeed, looking at the clutch of titles published in 2019 on my desk (and the year is only five months old as I write), suggests that they have decided to meet head-on the challenges of getting those who consider anything before fast Internet connections to be Stone Age, and that the word technology didn't exist before everyone had email and was on WhatsApp. So, how are Helbling boldly going forth where angels might have feared to tread? These readers fall into two categories: one is Fiction, which consists of specially written texts seemingly aimed at an adolescent audience. The other is Classics, adaptations of works from the great canon of UK and US literature, mostly from the late 19th and early 20th century, though the oldest is Daniel Dafoe's Robinson Crusoe (first published in 1719) and the newest is Virginia Woolf's To the Lighthouse (1927). The Fiction titles tend to be at A1/A2 levels (levels 1–3 in Helbling terms) and the Classics go up to B1 (Helbling levels 4 and 5), which is the upper limit of the series. Many of the classics have well-known film versions: The Great Gatsby, Dracula, Frankenstein, Pride and Prejudice, Twelve Years a Slave, Jane Eyre, The last of the Mohicans, The strange Case of Dr Jekyll and Mr Hyde, and The legend of Sleepy Hollow, to name just a few. The potential for film tie-ins is not an area that comes up in those books, which is either a missed opportunity or an avoidance of potential copyright wrangles. There are 12 titles per level, making a potential library of 60. Which ones are aimed more at younger learners and/or adolescents and which at young adults and – er – old adults is something that as far as I can make out can only be judged by looking at the illustrations.
Let's look at how the literary works are adapted; here's part of the unsimplified first page of Edith Wharton's The Age of Innocence:
'When Newland Archer opened the door at the back of the club box, the curtain had just gone up on the garden scene. There was no reason why the young man should not have come earlier, for he had dined at seven, alone with his mother and sister, and had lingered afterward over a cigar in the Gothic library with glazed black-walnut bookcases and finial-topped chairs, which was the only room in the house where Mrs. Archer allowed smoking. But, in the first place, New York was a metropolis, and perfectly aware that in metropolises it was "not the thing" to arrive early at the opera, and what was and was not "the thing" played a part as important in Newland Archer's New York as the inscrutable totem terrors that had ruled the destinies of his forefathers thousands of years ago."
And here's the first paragraph of Helbling's CEFR B1 adaptation:
'When Newland Archer opened the door at the back of the box he shared with his friends, the opera had already begun. He was not worried about his late arrival. It was not "the thing" to arrive early at the opera, and what was or was not the thing was important to Newland Archer.'
That 61-word final sentence in the original text has been sweated down to just 24 without losing its essence. And the toughest grammatical item in the B1 text is a past perfect, while the lexical load is unlikely to detract from the pleasure (we hope) of the reading. I doubt if it would be possible to grade as dense and elegant a literary style as Wharton's better for the B1 learner. But the punters have been extremely well-prepared; the text itself doesn't actually start until p19, so let's look at what they've been doing for the preceding 18 pages. First, there are notes for the learner (about Helbling's e-zone – activities with more vocab, grammar and listening, a guide to the audio icons, the speaking responses, the glossaries, prep for Cambridge Key and Prelim. Next up, in the post-reading section (though we're still on the inside cover!), thematic development from the story and a reflection on contemporary life, while for the teacher there is guidance and material in the 'state-of-the-art interactive learning environment', to which every purchaser has an individual access code; there are also downloadable resource sheets, photocopiable Worksheets and Answer keys, and more. Wow, it wasn't like this when I first started using readers. In addition, there's a Helbling Readers blog with weekly input, and all that's before we come to the story. Learners are given a page of biographical info about the author, and another about the plot (but no spoilers) and themes of the book. Then come four handsomely-illustrated pages of bite-sized cultural background, followed by a visual introduction to the main characters, which I could have done with after putting down War and Peace for a couple of weeks. After that, come four pages of Before Reading activities, activating key lexis. Thorough or what?
Printed on high-quality paper, each spread has some graphic content or illustration and glossaries of up to eight items, as well as a scattering of questions. Some teachers may have their reservations about drip-feeding these questions in boxes on the pages rather than presenting them before the sections. Each audio track (read by an American or British actor, depending on the origin of the author), corresponds to the double-page spreads.
The audio CD fits into a pocket at the back of the book, along with 16 (yes) pages of additional material. Naturally, it is these Before Reading and After Reading sections that the publishers really lay out their wares, so what have we got, apart from the CD, in the back of the book? First up, the learner is asked how they felt about the book: how much they liked it, how easy/challenging it was, etc., which are questions that have often been overlooked in published ELT material, perhaps because an open question unnerves an unprepared teacher. The learner is then asked a couple of pages of varied comprehension questions, which sometimes mix gist and detail, e.g.: in Dan and the Village Fête (p62), though the questions generally manage not to be dull, partly since they include pair and group work and are attractively laid out. These pages are followed by two pages of activities about the characters, then by two about Plot and Theme (here, relevant wider issues may be explored, such as bullying (Dan and the Village Fête, p67). Then comes the inevitable section on Language Work: vocab, syntax, the passive, pronouns, short answers, to mention just a few. To round off – and for me this really is a standout feature – snappy texts about, for example, Goth subculture (Dracula, pp102–03), issues of personal and private freedom (The Age of Innocence, pp94–95), or Technology and the Luddite Rebellion (The Invisible Man, p90). But hang on – we're not done yet; there's a two-page Exit Test (with Speaking and Listening material), Cambridge KET or PET practice (where appropriate) and a stimulating interactive project, where the term interaction is used in the traditional sense of talking to the people around you. At this stage, some of you might be wondering if you still need a coursebook.
As I said above, and to flog another tired metaphor, these Pre and Post Reading sections are where the series nails its colours to the mast, and does everything you could ask for – and more – to get engagement, pleasure and a measurable language yield out of the texts, and in so doing, I think they set a new standard for what can be done with readers in the A1 to B1 range. And that might just foster the reading of great books in the future in paper format, using sustainably-managed forestry methods, naturally.
Brian Brennan
Brian Brennan is Language Training Manager at International House Company Training in Barcelona. bbrennan@bcn.ihes.com
---
---
Summary of books reviewed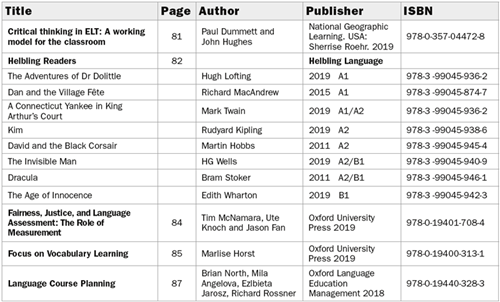 Future issues
If you have any articles on the themes below, I would like to hear from you. Articles should be 1200–1800 words.
Topics for 2020

Summary of books reviewed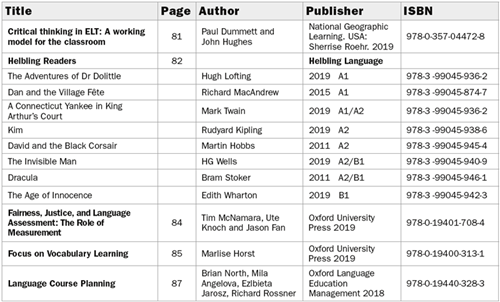 Future issues
If you have any articles on the themes below, I would like to hear from you. Articles should be 1200–1800 words.
Topics for 2020