IATEFL Brighton 2018: Day 1
This year's IATEFL (International Association of Teachers of English as a Foreign Language) annual conference took place in the seaside town of Brighton and saw more than 2000 delegates walking between the Brighton Centre and the Hilton Brighton Metropole to listen to more than 500 presenters talk about their research, their experiences and their passions.
There were also 49 exhibitors displaying their books, language teaching aids, catalogues, testing tools and courses in the exhibition hall, as well as giving away free ice-cream, hot dogs, champagne, and the usual conference paraphernalia. Our very own Pavilion Publishing stand was able to show off our hot-off-the-press 'Best Practices for Blended Learning' by Pete Sharma and Barney Barrett and 'ETpedia for Teenagers' by Edmund Dudley, as well as ELTons awards shortlisted 'Teaching Grammar: From Rules to Reasons' by Danny Norrington-Davis and 'English for Health and Social Care Workers' by Ros Wright. We also featured a daily 'Guess the word count' competition that saw three winners who walked away with free books, and new ETprofessional marker pens, which drew quite a bit of attention from the teaching crowd at the conference.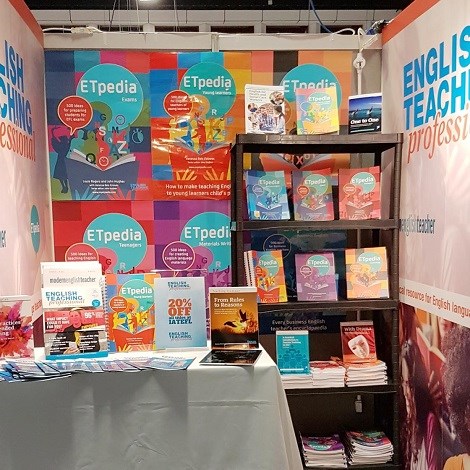 Our stand at IATEFL Brighton's Exhibition Hall.
The conference kicked off with the opening plenary by Lourdes Ortega on the role of SLA research in language teaching. While many teachers complain that research is of little to no use and difficult to access/understand or adopt, some teachers with a thirst for research want to find solutions to issues in their own teaching. But there is no doubt that there exists a gap between academic researchers and practitioners. Ortega suggests that in order to encourage teachers to be more receptive to research, we could consider calling it 'inquiry' and not 'research', make research more accessible, promote action research and/or create opportunities for researchers and teachers to work together.
But what is SLA research good for? Ortega maintains that it can sharpen our teaching, like in the case on research done on motivation. However, research can sometimes fall short of really being relevant (yet) without a concrete answer to a teacher's dilemma, as in the case of the research on error correction, perhaps due to the complexity of the area. And when research is inconclusive or decontextualised, it can be put aside by teachers due to critical mistrust. Ortega admits that much of SLA research needs a large amount of contextualisation and critical classroom translation for it to be accessible and adaptable to classroom practice.
Sometimes, research can help us see the world of language teaching differently. Take for example the research into age and language learning: while some show that the earlier one learns a language, the better, research into children learning in immigration and EFL shows that later might be better. Another example is multilingualism research suggesting that the more L1 learning in children can lead to better L2 learning, thus challenging the non-use of L1 in L2 classrooms. A better understanding of such relevant but under-utilised (often ignored) research could encourage us to rethink and transform some habitual practices in the language classroom. However, Ortega acknowledges that there are no straightforward formulae or recipes that will be effective in every context because teaching is complex.  Instead, she leaves us with the sound advice that we teachers should ask if the research would amplify, augment, and invigorate what we already know and resonate with our practice. And if it does open up a new understanding, then we should engage with it. But if it leaves us unconvinced, then we should not hesitate to put the research aside.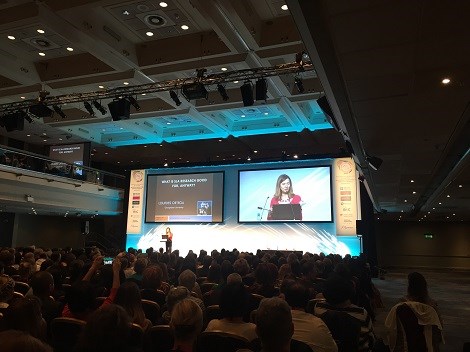 Lourdes Ortega speaks to the IATEFL delegates in her opening plenary.
Straight after the opening plenary, our very own ELTons-awards-shortlisted author, Danny Norrington-Davis led a workshop based on case studies inspired by his book 'From Rules to Reasons'. Instead of getting students to memorise grammar rules, Danny suggests getting students to deduce the reasons behind why a certain structure is chosen by the author of a text. In this way, students could better understand the reasons and the context it is used in, thus avoiding situations where the teacher has to constantly explain away grammar usage that do not fit into its rigid prescriptive use with a 'That is an exception!'
In this IATEFL talk, Danny looks at case studies of teachers who have been using his reason-based inductive approach with their students. In one of them, students compared the same texts written in both English and Spanish, thinking about when grammar structures are similar in both cases and when different ones are used and why. Danny concludes that to supplement this approach, the students' L1 is our friend and it's helpful to give choices or prompts (why this structure and not that?). It is also clear that students undoubtedly benefit from the interactions and negotiations that this approach gives rise to, and that it's good to ask students to reflect on the 'why'. (For a more detailed summary of a previous workshop based on Danny's book, see here.)
Danny Norrington-Davis talks about real life case studies of teachers using his approach.
In another Tuesday morning talk, Christine Goh of Nanyang Technological University Singapore (my Alma Mater) gave a presentation entitled 'Learning to listen: a matter of top-down or bottom-up processing?' Quoting an experiment in the 70s where listeners who knew the title of a text were better able to understand and remember it, Goh talks about how using the learners' existing knowledge/concepts (schema) can help drive understanding, as opposed to listening to a text cold. There are many benefits to pre- and post- listening tasks: Pre-listening tasks could focus on helping students focus on the content of the listening, or focus on planning how they would tackle the task; Post-listening tasks could help learners not just review the task but also monitor and evaluate their listening strategies. However, teachers also need to actually 'teach' listening. And Goh suggests that we can do this by using metacognitive skills to support our students' efforts at listening. Metacognition is the process of reflecting and thinking about how we think and the active monitoring, orchestration and regulation of our cognitive and learning processes. Goh proposes a framework for teaching metacognitive skills that enables us to also teach students how to listen and think.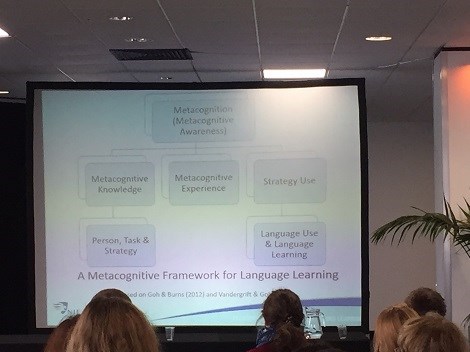 Christine Goh's framework of metacognitive skills of language learning.
On Tuesday afternoon, I gave a presentation based on this blogpost on promoting a growth mindset in the staffroom and how we can use such a mindset as a foundation for many potential ideas for CPD (Continuing Professional Development). The presentation was well-attended by many active participants, many of whom were Directors of Studies and managers at their institutions who knew about applying the growth mindset to students but seemed interested in considering doing so with their teachers.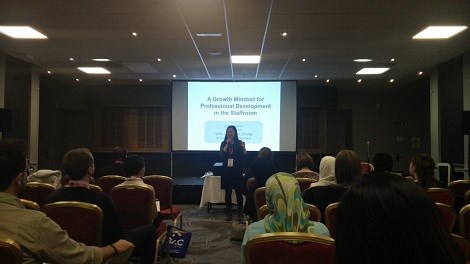 Me starting my IATEFL presentation on growth mindsets.
In one of the pop-up presentations in the exhibition hall, our very own chief editor of English Teaching professional, Helena Gomm, took the stage that evening and delivered a very useful session on how we can contribute to ETp and the benefits of subscribing. Aside from the ability to share ideas as a profession and enhance our profile, the act of writing an article can also promote reflection and self-improvement. So how can you get started? To start off, she suggests reading the ETp magazine to get a feel for the style and the kinds of things that are published. We could consider writing on a topic that hasn't been covered and then contact Helena for the guidelines for contributors, bearing in mind that she is looking for good clear practical articles that will help readers, articles on hot topics in ELT, and/or contributions to our 'It Works in Practice' section. Helena then cautions us against writing articles that merely demonstrate how widely read we are, articles that ridicule teachers, students or other writers, articles that are advertisements for books/products, or articles that feature research with long tables of statistics and millions of citations.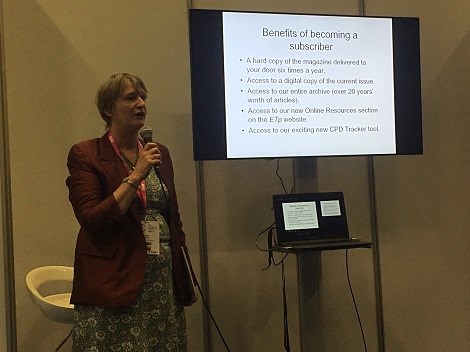 Our chief editor Helena Gomm talking about subscribing and writing for ETp.
After a long but fruitful day, we were looking forward to some of the evening entertainment carefully planned by IATEFL. Some teachers headed to watch the Pecha Kucha sessions while I made my way to the yearly pub quiz organized by Gavin Dudeney, where our team, put together by Mike Harrison, came second after a couple of hours of fun and laughter.
Exhausted but satisfied, we all made our way back with a smile on our faces in anticipation of the second day of the conference…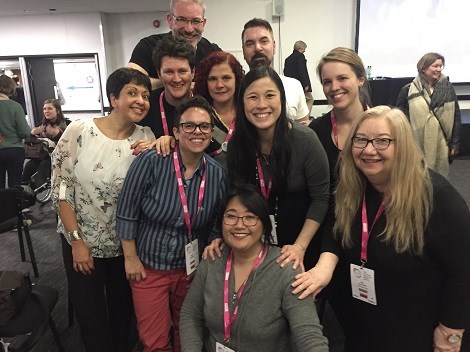 Although the very essential Phil Longwell is missing from this photo, here is our pub quiz team rocking the evening events!