On Saturday 22nd June 2019, a large number of motivated educators gathered at the ORT House in Camden Town, London, to be inspired and have some fun with their professional development.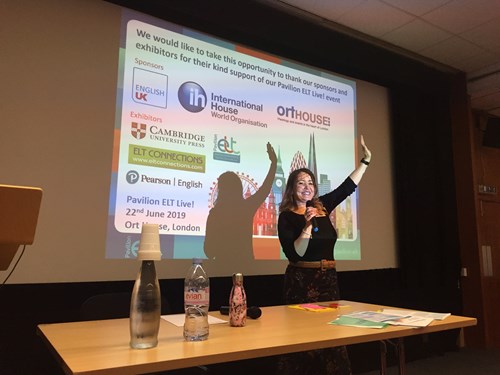 Kirsten Holt kicking off the conference with a Solution Room.
Soon after everyone was registered and had had their dose of morning coffees (or teas), the one-day conference kicked off with an opening speech by Kirsten Holt, the head of Pavilion ELT. This led straight into an interactive Solution Room where delegates got together to engage in peer learning and targeted problem solving. The session began with a human spectrogram where participants laughed and chatted as they chose which side of the conference room they wanted to stand on, depending on how much they agreed or disagreed with a statement that was posed. The educators got to group together with like-minded professionals on topics such as teacher autonomy, research, and use of technology, exploring the concepts and brainstorming useful ideas.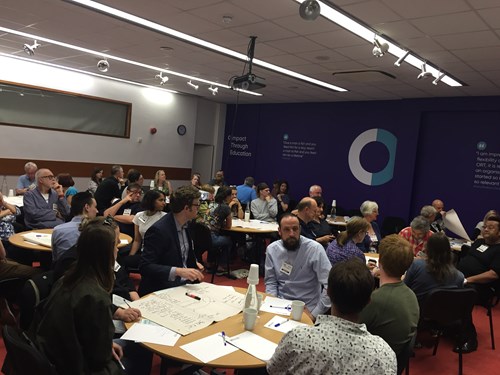 Delegates participating in the Solution Room animatedly in their groups.
A wonderful substitute to an opening plenary, the Solution Room had delegates engaged and chatting to delegates they have never met before. Teachers and teacher trainers found themselves clubbing together, justifying their points of view and pushing each other to delve deeper into areas of teaching that they previously might not have explored as thoroughly. In many ways, the Solution Room set the tone for the rest of the conference by getting teachers to focus on the process and not just 'top-down' input.
The parallel sessions that followed were divided into three strands: Experiential Professional Development, Debunking the Myths, and At the Chalk Face – what really works in practice. I went to Fiona Mauchline's 'Ten rule breaks to teach vocabulary to the many not the few' because her new ETpedia Vocabulary book is just fresh off the press and I was curious to see her take on teaching vocabulary. Speaking about students with colour-blindness, partially-sighted students, students with dyslexia and students who are hard of hearing, Fiona demonstrated many useful tips on how we can be more inclusive with the materials we use and the activities we choose to generate vocabulary in the classroom.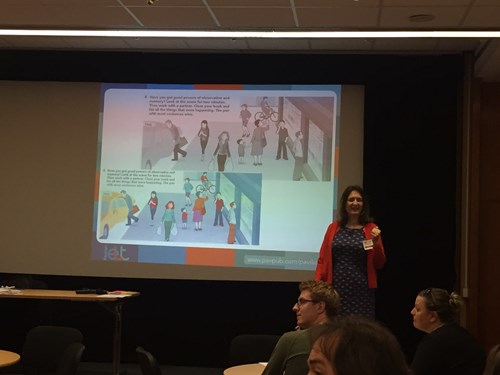 Fiona Mauchline on how we can make our materials more inclusive.
After a coffee break, we were treated to a mind-blowing interactive plenary by Carol Lethaby with the exciting title 'Fact or Myth? Using the brain in ELT practice'.  The audience were encouraged to separate the fact from the neuromyth upon being presented with numerous statements such as 'We mostly only use 10% of our brain' (Myth!), 'Differences in hemispheric (left brain, right brain) can help explain individual differences among learners' (Myth!), 'Individuals learn better when they receive information in their preferred learning styles (e.g. visual, auditory, kinaesthetic)' (Myth!) and 'Extended rehearsal of some mental processes can change the shape and structure of some parts of the brain' (Fact!).
As Carol proceeded to debunk the myths with neuroscience research, it was particularly interesting to see how pervasive these myths are amongst teachers (a shocking 90% of teachers surveyed believed in that students learn better if they are taught in their preferred learning style). The eye-opening plenary had us reflecting on how our mistaken intuitions and beliefs about language learning can lead us to underusing effective strategies and overusing ineffective ones.
Interestingly, amongst the ineffective strategies are re-reading, highlighting and writing summaries of long texts. Instead, according to the evidence, effective strategies include distributed/spaced practice, practice testing, elaborative interrogation (e.g. explaining why something is true) and self-explanation of what is learnt (e.g. How does this relate to what I already know? How can I apply this in a different situation?).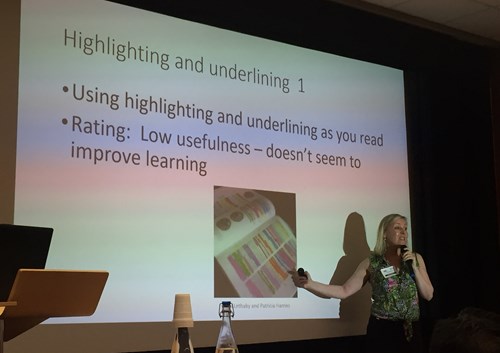 Carol Lethaby on ineffective strategies.
After a mouth-watering lunch spread of sandwiches, samosas, kebabs, cakes, and lots of networking, the delegates settled back in the main conference room for a Disruptive Plenary titled 'Break the Mould! Adapting and innovating in the face of change' by Jacqueline Kassteen.
A refreshing plenary that broke away from looking at teaching approaches and methodology and instead focused on the business aspect of what we do, Jacqueline started her talk by showing us lots of interesting examples of companies and industries who have successfully adapted and innovated (e.g. making sushi palatable to the western consumer via the invention of the Californian Roll) and those that haven't (e.g. the department store that is slowly being taken over by online shopping).
Warning against the dangers of resting on our laurels, Jacqueline encouraged school owners, education managers and educators to re-consider our business model and to take the initiative to innovate and stay ahead in an industry that is faced with multiple changes, whether they be technological advances, easier access to English language courses or Brexit.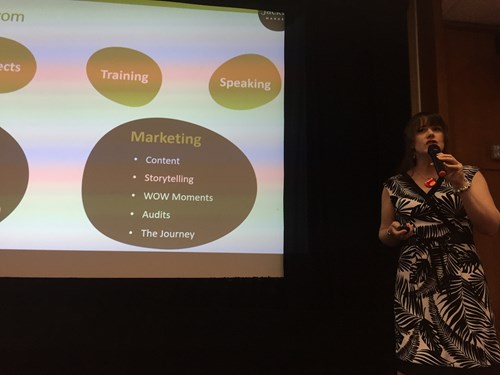 Jacqueline Kassteen on how we market ourselves.
Following on nicely from the theme of Jacqueline's disruptive plenary, I was very keen to attend Fiona Dunlop and Keith Harding's session 'Ten steps to CPD success', seeing as their book, ETpedia Management, has just been published. However, I was delivering a workshop on teaching interpersonal skills based on my book Successful International Communication and was unable to clone myself. My audience was extremely accommodating and made every discussion and roleplay lively with full of reflective takeaways.
For my last parallel session of the day, I popped into Susan Holden's session on materials writing 'Materials: from ideas to reality and beyond' where she highlighted the importance of identifying and understanding the needs of the market and how we can cater to it.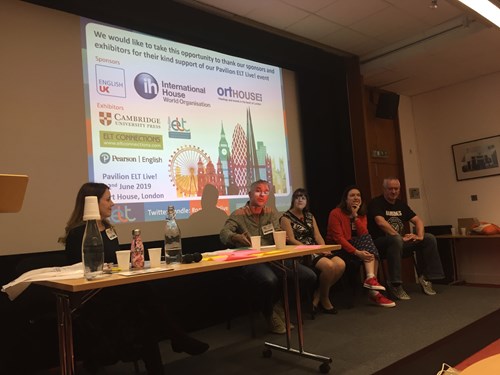 Speakers invited to join the panel for the mini-closing plenaries.
After Susan's informative session, we made our way back to the main conference hall for the closing plenary. But just like the opening, this was a plenary with a difference. Inviting several of the day's presenters up on stage to sit on a panel, Kirsten conducted the closing as mini-plenaries in the style of the improve comedy TV programme 'Whose line is it anyway?' Questions from the different talks and workshops through the day were raised and the speakers were give opportunities to tackle the questions and discuss the issues. This provided plenty of fodder for conversations to continue into the post-conference drinks reception and then the group outing to the pub afterwards.
As I eavesdropped on some of the drink-reception conversations, I noticed the words 'interactive' and 'engaging' popping up again and again to describe their conference experience for the day. And judging by the excited voices and the smiles on the delegates' faces, I'm guessing that the interactive nature of Pavilion ELT Live! served to inspire and motivate in the way we hope conferences would.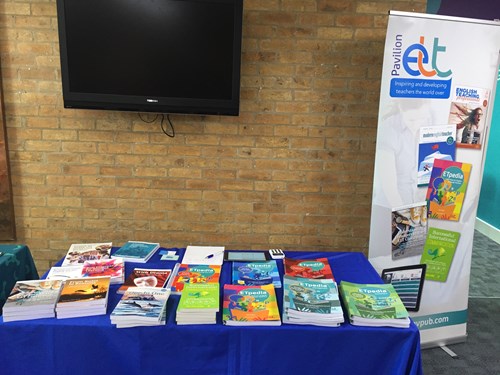 Our Pavilion ELT stand at the conference exhibition area.