Programme design – a wide angle view of the key components
Modern English Teacher, 29 (1), January, 2020
The issue of programme design is indeed multi-layered and complex. I have been working in education for several years now and have certainly not found a quick fix approach to this important aspect of our working lives, nor do I advocate that there should be one. I have though given thought to the many components involved and how they combine and interlock to form a narrative of programme design. Here I outline six key components with four significant elements within each. There are naturally many instances when these elements interchange under alternative components within this model, but I have selected a key resting position for each based on my own personal experience of where they have more commonly appeared.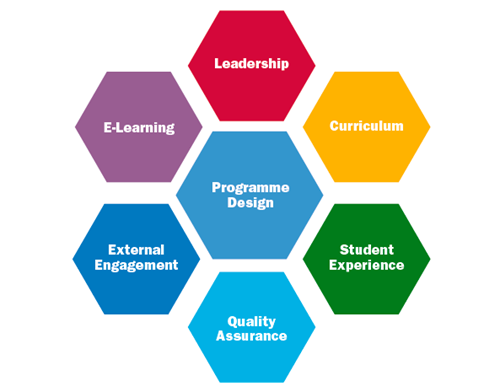 Leadership
Communication – clear leadership involves clear communication. Structured team meetings where everyone has the opportunity to be included is a great way to ensure programme buy-in from the team. A real shared community is created with good communication.
Expectations – having open and transparent information to all staff concerning workloads is vital. I have utilised shared records using online platforms with staff before with great success as people can view each other's contributions at any stage.
Empathy – having an open door policy and recognising the moments when teachers and students need to be heard provides a strong base for collaborative reflection. As Pollard (2008: 24) highlights, 'reflective activity is almost always enhanced if it can be carried out in association with other colleagues'.
Recognition – providing staff and students with praise and highlighting how they fit into any programme and how the programme itself fits into any larger scale operation is a great way to provide motivation and value.
Curriculum
Holistic – curriculum design is commonly needs based, fixed to prepare learners for a particular pathway. More than this, good curriculum seeks to encompass the whole. It should contain both top-down and bottom-up approaches, enabling learners and educators to maximise their potential.
Blended – a blended curriculum is most often perceived to incorporate online aspects of delivery. I like to consider blended curriculum as wider than this. Blended curriculum utilises a range of resources to maximise learner engagement and create meaningful output.
Learning opportunities – Crabbe (2007: 118) explains that a 'learning opportunity refers simply to a specific cognitive or metacognitive activity that a learner can engage in that is likely to lead to learning'. With curriculum design, considering how we transition learners through stages of input, output, feedback and on into increased explicit understanding is clearly important.
Culturally aware – it is important to consider steps to increase the learners' awareness of the culture of the host country where this is also applicable. Too often learners can be disadvantaged when abroad due to a lack of understanding of cultural norms.
Student experience
Enrolment processes – were they welcomed? Were they listened to? Were their intentions matched with our courses clearly and transparently? These questions go a long way to smooth that first actual classroom experience and guide the overall programme.
Outstanding teaching – it can take many forms, be that student-centred, showcasing learner production, supportive of learners' needs, reflective and capable of building autonomous learning. Marzano & Pickering (2009: 269) importantly propose, 'the ultimate goal, of course, is for students to begin to experience the intrinsic rewards of increased success and achievement'.
Student support – I strongly advocate for the need to have student support outlined within any programme from the start to enable a clear process to guide any learners should they falter along the way.
Student feedback – holding focus groups is one simple and effective way to ensure students are heard and respected. It is equally important that the data collated from any method is actioned upon and further reflected on.
Quality assurance
External bodies – all programmes are answerable to external influencers but of course some have different levels of impact on our approach to their design. The benefits of having brand association with separate overseeing bodies is clear to both the students and educators within any programme.
Moderation – different programmes have different levels of moderation. Simple moderation can occur between teachers to ensure cross course equity. Up from this, senior tutors, department heads and examination boards all have a role to play.
Assessment – we know strong assessment contains face, construct and content validity, whilst also being reliable and practical. Meeting all of these criteria is a challenge in itself and one that many courses fall down on when we openly reflect on them.
Internal audit – 'evaluation is now seen as an integral part of language curriculum development' (White 1988: 148). White's words from over 30 years ago still echo very true today and conducting internal audits for your courses provides a forum for reflection and assessment.
External engagement
Guest lectures – affording opportunity for learners to enhance their understanding of university life, opportunity to meet faculty staff and an opportunity to raise the profile of the pathway course can be a benefit to many parts of a programme.
Business visits – having placements in related companies helps to enforce the benefits of education and prepare students for life after study. Brown (2007: 226) clarifies, 'context is the real key to giving meaning to both form and function'. These moments within a course can also provide valuable decompression time away from direct study, allowing greater time for contemplation increasing understanding.
Strategic partnerships – I have been lucky enough to work within universities that have a shared purpose across different faculties. Here a combined delivery, with some programme aspects being lectures on environmental policy, school visits or indigenous educational planning delivered across campus in support of English Language studies.
Professional memberships – being a member of a professional body helps to ensure that on our journey of programme design we are not alone. By sharing our insights we learn a great deal from each other, recognising issues, errors and trends along the way.
E-learning
Virtual Learning Environment (VLE) – there are many different platforms available today that students can access outside of designated classroom time (i.e. Moodle, Google Educator, etc.). These also serve as great ways to support teaching and teachers as they can scaffold course delivery.
Online materials – an abundance of online materials awaits those that look for it (i.e. Kahoot! TED Ed, Quizlet, etc.). The difficulty really lies in providing relevant resources as opposed to simply replacing pen and paper.
Classroom tools – having taught with a range of materials in the classroom, from interactive whiteboards, touch screen HD TVs and tablets to chalk on a blackboard in a room without electricity.
Try to think simple, try not to use technology for the sake of technology.
Professional development (PD) – I firmly believe that 'successful teachers are those who strive to keep up-to-date and who remain as learners themselves' (Holderness, 2002: 84). Participating in regular PD, face-to-face or online, enhances teachers, teaching practice and programme design.
Conclusion
The 24 elements outlined above can readily interchange with each of the six key components forming a fluid model for programme design. This non-restrictive approach enables multiple stakeholders to provide valuable input to make a successful programme. All in all, a great level of planning, perseverance and perspiration is required to make any programme a success.
References
Brown HD (2007) Principles of Language Learning and Teaching (5th Edition). White Plains: Pearson Education.
Crabbe D (2007) 'Learning opportunities: adding value to tasks'. ELT Journal 61 (2) 117–125.
Holderness J (2002) The Role of Continuing Professional Development in the Improvement of International Schools. In M Hayden, J Thompson & G Walker (Eds) International Education in Practice: Dimensions for national and international schools (pp83–98). London: Routledge.
Marzano RJ & Pickering D (2009) Dimensions of Learning. Teacher's Manual (2nd Edition). Victoria: Hawker Brownlow Education.
Pollard A (2008) Reflective Teaching. London: Continuum Publishing Group.
White RV (1988) The ELT Curriculum. Oxford: Blackwell.
---
Andy Barker has over 10 years' teaching experience in the secondary and tertiary sectors and over 12 years' management experience across both public and private sector organisations, educational and commercial institutions. He has experience in education in Vietnam, Malaysia (Sabah and Penang), New Zealand and the UK where he is currently employed as the Head of English at Lincoln University ISC. He holds an MA in Education, PGCE (i), Delta and CELTA.