Technology tips for three instructional contexts
Modern English Teacher, 30 (3), July, 2021
Which tools are going to help learner engagement? Which ones are going to make learning more efficient? Which ones will help learners think more critically. This article suggests a range.
Today, most of us cannot imagine our life without technology in the classroom. In this piece, I would like to share several technological tools that can be simple yet effective additions to a language classroom.
Depending on the context, teachers adapt their pedagogical approaches. In a similar vein, we can use the same technological tools, but for different pedagogical purposes. While the following technological tools worked well in the contexts and the purposes I describe, there may be other ways teachers use the same tools in their classrooms. In this article, I will overview the following topics: online games for ELLs, tools for teaching international teaching assistants (ITAs), and collaboration tools for language pre-service teachers.
Online Games for ELLs
Free online games can be very helpful in creating additional opportunities to practise the language. They can also create a bonding experience for the teacher and students (Braunstein, 2020). Among the many options available today to language educators, I have been mostly using Immigration Nation, 3rd World Farmer (Orsatti, 2021), and Brightful.me (Braunstein, 2020).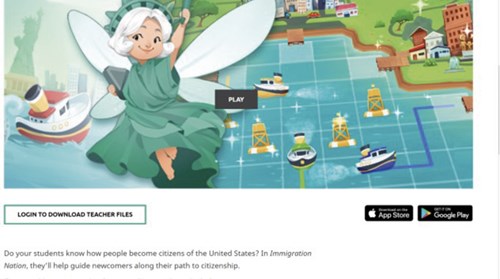 Immigration Nation is a web-based game that helps students practice several English skills (including listening, reading, and vocabulary) and is targeted towards beginner users of the language. The goal of this game is to learn about the ways people become citizens of the USA. It also features many educational resources around the topics of immigration, civil rights, U.S. history, and others. The game is offered in both English and Spanish.
In my classes, the game serves as a review of related vocabulary and materials that discuss the topic of immigration. One of the ways to incorporate the game in a beginner language class is to play the game together as a class. This offers many additional opportunities to use the target vocabulary (e.g., to grant citizenship, to authorize, to deny entry, etc.) and discuss game-related decisions as a class. For some of my students, this game is particularly relevant since they can relate to the topic as new immigrants
in the country.
3rd World Farmer is a strategy game offered in several languages, including English, Portuguese, Chinese, and others. The goal of the game is to help a family of farmers to earn their living on a farm in a developing country. This game offers specialized vocabulary related to the world of farming and farmers' life. It can be played individually and/or together as a class through the screen sharing option in a video-conferencing platform.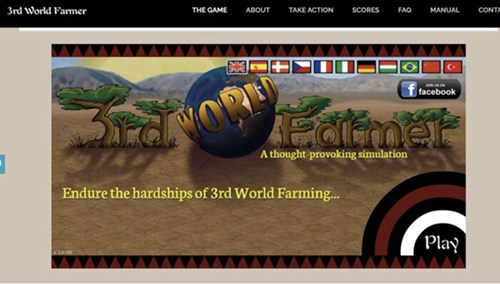 In the ESL/EFL context, this game can facilitate additional vocabulary and speaking practice and serve as discussion tool upon students' starting/completing a unit on economies of developed vs. developing countries, organic farming, and the role of agriculture in today's local and global economies. While some of the students may be more familiar with the topic due to their cultural or educational backgrounds and can offer interesting points to a discussion, other students may be attracted to the game itself. Apart from specialized vocabulary, the game offers both students and teachers a space to learn new information and to exchange opinions. The game can also serve as an experiential prompt in a writing class in which students reflect on their experience with the game in terms of, for example, new vocabulary learning.
Brightful.me contains several conversational games that target students' speaking, listening, and reading abilities and is designed for Intermediate and Advanced learners of English. It is offered in English.
In my classes, the game serves as an ice-breaking activity to help students collect their thoughts before starting the class and also learn about each other and myself (the teacher) in a more informal and collaborative environment. One of my favorite games in this platform is Would you rather… In this game, participants are offered two choices (e.g., Would you rather live at some moment in the past or in the future?) and they need to choose one option and rationalize their response. Usually, this game can provoke a lot of interesting and lively debates among students.
Tools for teaching ITAs
In my work with international teaching assistants (ITAs), I have found several interactive online teaching tools of particular use. The primary goal of my seminar for ITAs is to help them practise teaching skills and therefore, applications that allow them to record and share teaching demonstrations are particularly useful in this context.
FlipGrid is a video-based discussion tool, and it allows students to comment on each other's videos through video responses. This tool can be used to facilitate discussions on a teaching-related topic, e.g., Would you rather be a friend with your students or establish a more formal relationship? Why? To help students practice more formal presentations, GoReact is a particularly useful tool since it allows educators to give students very elaborate, structured, and time-stamped feedback. In my classes, teaching assistants record short lessons via GoReact and receive constructive criticism from not only me but also each other.
EdPuzzle is another web-based tool, and it can be used to create interactive video-based quizzes to check student understanding of teaching-related concepts in the ITAs' teaching context. For example, you can 'annotate' a sample video lesson with questions asking ITAs to evaluate the quality of a certain lesson based on the criteria discussed in the course (e.g., clear lesson objectives, teacher-student rapport, etc.).
Collaboration tools for language pre-service teachers
In my online classes with pre-service language teachers, I utilize several tools to facilitate communication. First of all, students post their thoughts about assigned readings in the university LMS discussion board (in my case, this is Canvas). In this way, students feel more responsible for reading and understanding articles and as a result, come better prepared for in-class discussions. Second, I use Google docs to help pre-service teachers navigate their small-group discussions. The prompts I prepare and share via Google docs help students stay focused during their discussions. In addition, they can always go back to their notes in case they need to review the information at any point. Lastly, Mentimeter and other similar live-poll software allow participating students to add their opinions to ongoing presentations with the use of their smartphones.
Conclusion
Overall, the use of technology in my classes has allowed to make them more engaging, collaborative, and effective for the students. Most of these tools can be adapted to different contexts and pedagogical purposes. I hope to see other educators' reviews of these or other instructional technologies to enhance learning environments for all students.
Some useful digital resources
Brightful.me. Ice-breaker games for meetings. Link: https://www.brightful.me/play/
EdPuzzle. Make any video your lesson. Link: https://edpuzzle.com/
FlipGrid. A video-based discussion tool. Link: https://info.flipgrid.com/
GoReact. Video software for skill development. Link: https://get.goreact.com/
Immigration Nation. An online civics game. Link: https://www.icivics.org/games/immigration-nation
Mentimeter. Interactive presentation software. Link: https://www.mentimeter.com/
3rd World Farmer. A thought-provoking simulation. Link: https://rdworldfarmer.org/
References
Braunstein B (2020) Using online games to encourage conversation and bonding. TESOL ITAIS Webinar Series.
Orsatti S (2021) Using digital games to create communicative activities about social justice topics. NECTFL Webinar Series.