The Non-native Teacher by Peter Medgyes
English Teaching Professional, (114), January, 2018
The Non-native Teacher by Péter Medgyes
Swan Communication
978-1-901760-11-8
A digital edition of this book is also available at www.intrinsicbooks.co.uk/title_by_title/tnnt.html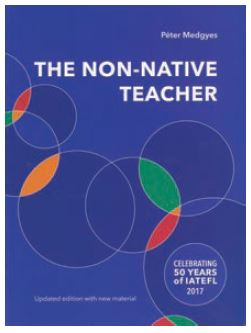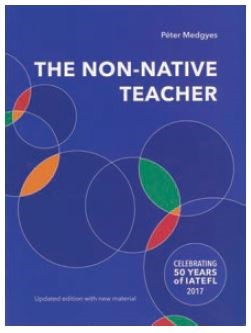 The issue of being identified as either a native or non-native teacher of English has always been a very controversial and, to some extent, painful one for many professionals. Some native speaker teachers of English (NESTs), for example, feel that they somehow lack knowledge of grammar or sufficient understanding of how languages are learnt. On the other hand, non-native speaker teachers of English (non- NESTs) are often aware of their own language gaps and the fact that they cannot possibly 'compete' with a native in terms of command of the language, with all its idiosyncrasies and subtleties.
Based on extensive research, the updated third edition of The Non-native Teacher, by Péter Medgyes, is a very insightful book, which deals with these and many of the other 'nightmares' that both NESTs and non-NESTs experience throughout their careers.
The book is divided into six parts, each subdivided into two chapters. To put it simply, and by no means trying to represent the entire contents, the material starts in Part I by discussing English as a lingua franca and standard Englishes, before moving on to the idea of being a native, a non-native and a 'pseudo-native' speaker of English. Part II talks about the status of NESTs and non-NESTs as if they were in 'opposite trenches'. Chapters 5 and 6, in Part III, touch on very important points, such as the dark side of being a non-NEST and the 'inferiority complex' which often comes with it. However, these chapters also explore the many advantages of being one, such as the ability to anticipate language difficulties and finding ways to help learners overcome them. In Part IV, Medgyes discusses the relative worth of NESTs and non-NESTs, and the need for collaboration between them. Chapters 9 and 10, in Part V, are devoted to the teacher learner, that is, when the teacher is learning and teaching at the same time, along with practical ideas on how non-NESTs can improve their language proficiency. The final part, Part VI, gives background information about the research on which the book is based and how it was undertaken. In the Appendices, the reader will find all the questionnaires used in the study and other data about the participants.
This revised edition of the book has the full text of the last edition (with some updating) printed in black, and entirely new elements reflecting changes to the profession in the last 25 years printed in blue. It includes blue margin notes, which expand on and update points raised in the previous editions. These notes also suggest ways in which the reader can relate the text to their own circumstances, as well as posing thought-provoking questions to encourage reflection. At the end of each chapter there is a list of other sources for further reading. In the last section of the book there are some interesting and, again, insightful extracts from a conversation between Péter (a non-NEST) and Susan (a NEST).
I am a teacher trainer myself, and the topic of being a non-NEST always crops up in sessions; the psychological impact it has on many professionals is obvious. Some non-NEST trainees even mention that no matter how good they are, NESTs are always 'five steps up the ladder' just by being native. So, the need for more professional development sessions on this subject would be extremely beneficial. I would go even further and suggest that teacher training courses like CELTA and Trinity CertTESOL among others should include a session on native and non-native teachers. And what better starting point than this book?
Like Silvana Richardson, who wrote the Foreword to this latest edition, I also found myself nodding in agreement, but also frowning and shaking my head in disagreement at times while reading the book. In spite of my very few reservations, I would say that The Non-native Teacher is a must-read for both non-NESTs and native speaker teachers. Not only is it based on sound research, but it could also be potentially 'healing' for many teachers who feel in some way inferior. I thoroughly recommend it.
---
William Chaves Gomes
London, UK
Subscribers can get a 12.5% discount on this book. To order and redeem the discount, email info@pavpub.com