The Thinking Train Series
Sponsored advertorial by Helbling Languages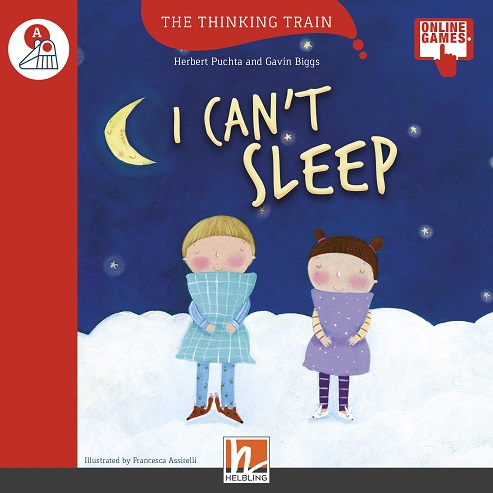 How important is it for young learners to have a love of stories? Should teachers be responsible for encouraging their students to think critically from a young age? These are the questions that inspire and define The Thinking Train series from Helbling Languages.
All students love stories! And a love of stories is a lifetime gift. But somehow incorporating stories into today's fast-paced language learning environment is not as simple or as accepted as it should be. Can teachers spend ten minutes doing quiet reading in class? Can we ask students what they would do if they were Hermione or Harry Potter? Standalone tasks to encourage reading and critical thinking are useful, but there is a huge opportunity to really engage and support students as well as have fun with stories in a structured and original way.
And this is the key – original fiction and a structured approach to thinking skills.
Original Fiction
The Thinking Train is an innovative series devised to enhance key thinking and language skills in young learners while developing a love of reading.
Stories, in addition to being an excellent vehicle for providing a real context for developing language, are a greatly motivating resource for any classroom. Original picture books are particularly important as the illustrations provide real visual support to the language presented and help create a situation that the reader immediately feels part of. Developing visual literacy through picture books is crucial, especially for full reader immersion.
There is a huge amount of research on the importance of reading for pleasure in a second language, as well as learner motivation in the classroom. Combining these two aspects can only be of benefit for the teacher and the student.
The Thinking Train is a six-level, 24 book series with an incredible range of characters to delight teachers and students with drama and dilemmas.
From a fire-breathing dragon looking for her lost sister to robots designing their own animals, from a Brazilian village threatened by poachers to four girls racing across desert sands on incredible animals… original adventures and excitement feature throughout the series. Engagement through adventure is not the only goal. Characters and situations need to be relatable to students, either directly through stories about family life or school, or through the emotions and struggles each character feels. Even emotions such as anger, fear, embarrassment or loss can be sensitively explored in age-relevant activities through this process. It is also very important to avoid preaching to students about global topics or values, but rather encourage discussion.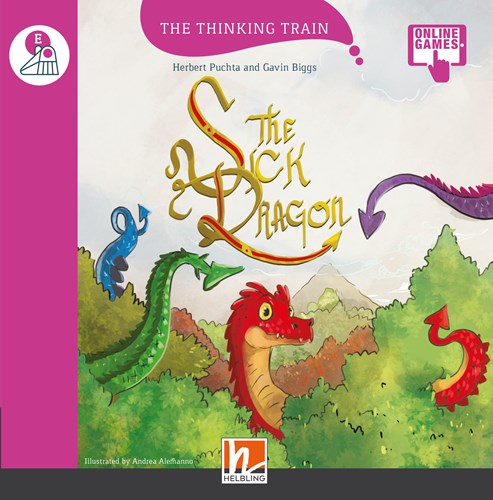 Thinking Skills
The Thinking Train stories are supported in a way that takes learners on a true thinking journey. To focus on the development of children's thinking skills through the use of stories requires structure. Before Reading activities are simple exercises for vocabulary comprehension so students will not struggle with words that are key to understanding the story. Every spread has a "THINK" box providing an opportunity for discussion, reflection or prediction. After Reading activities are for more detailed language and grammar practise following the integrated critical thinking curriculum and matched to exam preparation tasks.
Thinking about and discussing issues gives learners an authentic reason to use language. Children are also encouraged to think together where possible, creating a community of enquiry in the classroom.
As they progress through school, children need to acquire far more than the factual knowledge generally prescribed by school curricula. They need to be able to think about the knowledge they acquire to critically question what they read and hear and to assess evidence carefully.
In the long term, they will need to be equipped to face the challenges of a changing and unpredictable world. To do this they will need a range of thinking skills to enable them to solve problems and make intelligent decisions. These skills will help children to face new and unpredictable problems and to find the best ways of tackling them.
In The Thinking Train series, students will often invent dialogues, act them out, mime actions and use drama and role play to practise new language. In a playful way, the stories will focus on the following thinking areas:
• comparing and contrasting things
• categorising and sorting
• sequencing
• spatial awareness
• cause and effect and problem solving
• decision making
• predicting
• creative thinking
Combining original storytelling, language learning, visual literacy and critical thinking curricula results in a truly unique tool for the classroom.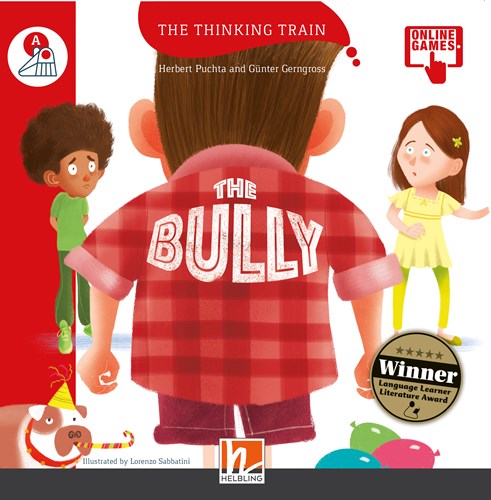 Enhancing the Learning Experience
The Thinking Train series follows a simple philosophy – a love of reading is a gift we carry with us forever. A student who can intelligently question and explore the world around, and themselves, is well equipped for the future. Enhancing the learning journey is an on-going process and must be flexible for different needs. A graded series with online resources, downloadable audio, games, exam preparation practise – these additions centre us to the goal. Our goal is always language learning, but comprehensive language learning and exploration by motivated and engaged students is an experience all educators wish to have.
---
Article written by Gavin Biggs, author of 'The Thinking Train Series', together with Herbert Puchta and Günter Gerngross. Series editor Maria Cleary.
Find out more about this series here.
The content for this page was paid for and provided by Helbling Languages.