My Top 10 Highlights of IATEFL Glasgow 2017
English Teaching Professional, April, 2017
IATEFL (International Association of Teachers of English as a Foreign Language) held its 51st conference in Glasgow this year from the 3rd to the 7th April and attracted more than 2000 delegates in what is undoubtedly the largest annual conference for English teachers in this part of the world. I was at the conference with my colleagues from English Teaching professional and these are the top ten highlights of my conference experience.
1. Looking at the conference programme this year, the buzz word that jumped out at me was the expression '21st century skills'.
These skills included critical thinking skills, digital literacy, and soft skills such as presentation, negotiation, accommodation and intercultural skills. At the BESIG (Business English Special Interest Group) Pre-Conference Event, there was a strong focus on the topic of how teachers can adapt to the changes of the modern age and tailor our teaching to include training in conflict management, relationship and rapport building, teamwork, adaptation skills and international collaboration skills.
2. IATEFL saw a new SIG (Special Interest Group) this year: the IPSEN SIG. IPSEN stands for Inclusive Practices and Special Educational Needs and the SIG is dedicated to looking at wider issues of inclusion in language teaching.
At the IATEFL Pre-Conference event this year, IPSEN SIG highlighted issues of raising awareness of dyslexia and neurodiversity, making ELT accessible to blind students via technology and recycling, and supporting introversion in language teaching. To find out more, you can watch this interview with the SIG coordinator Varinder Unlu here.
3. Gabriel Diaz Maggioli's opening plenary of the conference focused on the issue of CPD (Continual Professional Development) and how it is often insufficient, unfocused and irrelevant to the teachers' day-to-day problems.
Emphasizing the importance of tailoring CPD to the individual teacher's teaching circumstances and needs as opposed to a one-size-fits-all token CPD provided by institutions, Maggioli stated that CPD is something that is done with teachers and not to teachers. He urges educational institutions to step up and consider the developmental needs of their staff and not leave CPD to be done in their personal time. Examples of how institutions can promote tailored CPD included encouraging peer support, group teaching, study groups, learning circles and exploratory action research.
4. A few other speakers also focused on the topic of research and Exploratory Practice (EP)
Judith Hanks talked about EP and examining intercultural issues of trust and Scott Thornbury gave a talk on writing methodology texts. There was no doubt that a bridge between research and practice was needed, and that practitioners could proactively, alongside their students, investigate issues that are pertinent to their teaching situation.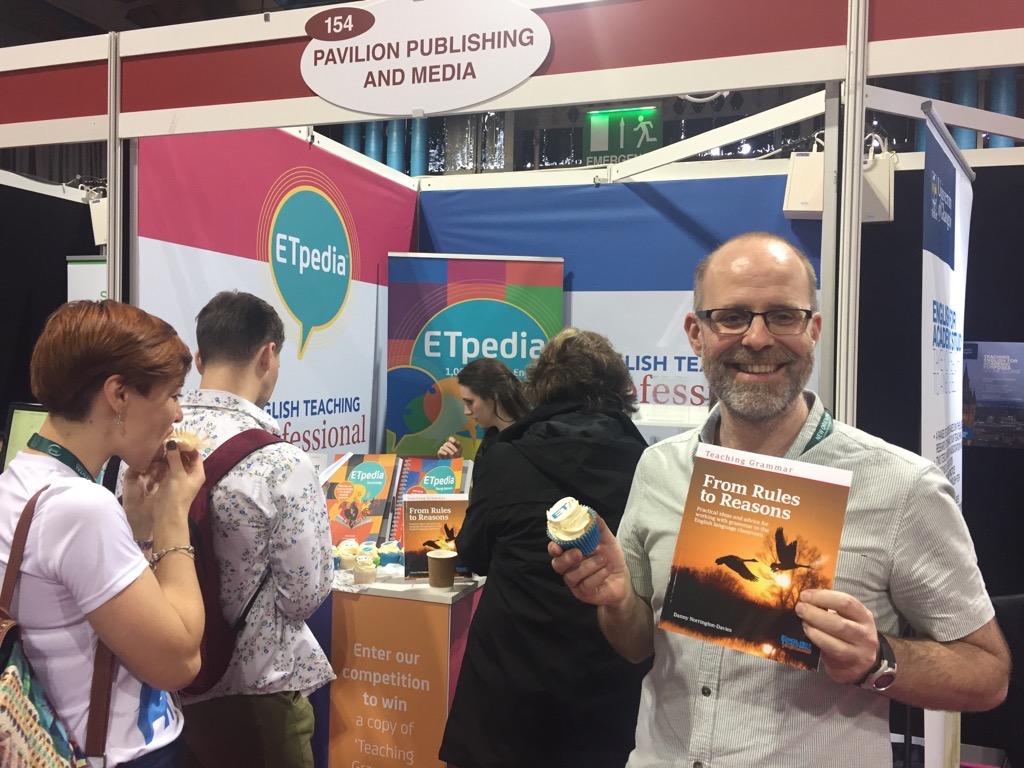 Danny Norrington-Davies and his sell-out book at our IATEFL exhibition stand
5. Talks on grammar are still a big hit at IATEFL, and if you can show your audience of teachers how they can teach grammar in a more effective way, you are sure to attract a huge following, as seen at Danny Norrington-Davies's talk 'Teaching grammar for all the right reasons'.
Danny suggested departing from thinking of grammar in terms of rules, but instead getting students to discover the reasons for the use of certain structures by exploring the co-text and the context, and attributing these 'grammar reasons' to the speaker/writer and situation rather than coming up with a blanket rule that will consequently be littered with exceptions. Danny's room packed more than 200 participants and many had to be turned away (including our own editor-in-chief Helena Gomm!). The consequent sell-out of Danny's new book 'From Rules to Reasons' at all the bookseller's exhibition stands was no surprise either.
6. Sarah Mercer talked about being psychologically-wise in her plenary on Wednesday, starting with how we could develop positive relationships with our students.
Mercer maintains that teachers will not become obsolete as they inspire, motivate and connect with people. It is therefore important that we spend more time talking about how we can work on relationships, communication, collaboration, social cultural competence and interpersonal skills. She then moved on to talk about the benefits and applications of a growth mindset and how positive emotions can help us explore new horizons, be more creative and learn more (Read more about growth mindsets and how you can foster a growth mindset in your staffroom). Last but not least, was a focus on how teachers should nurture their professional well-being and seek a work-life balance, making time for our hobbies, sleep, family, exercise, etc., and not constantly being over-critical of our own abilities and job performance.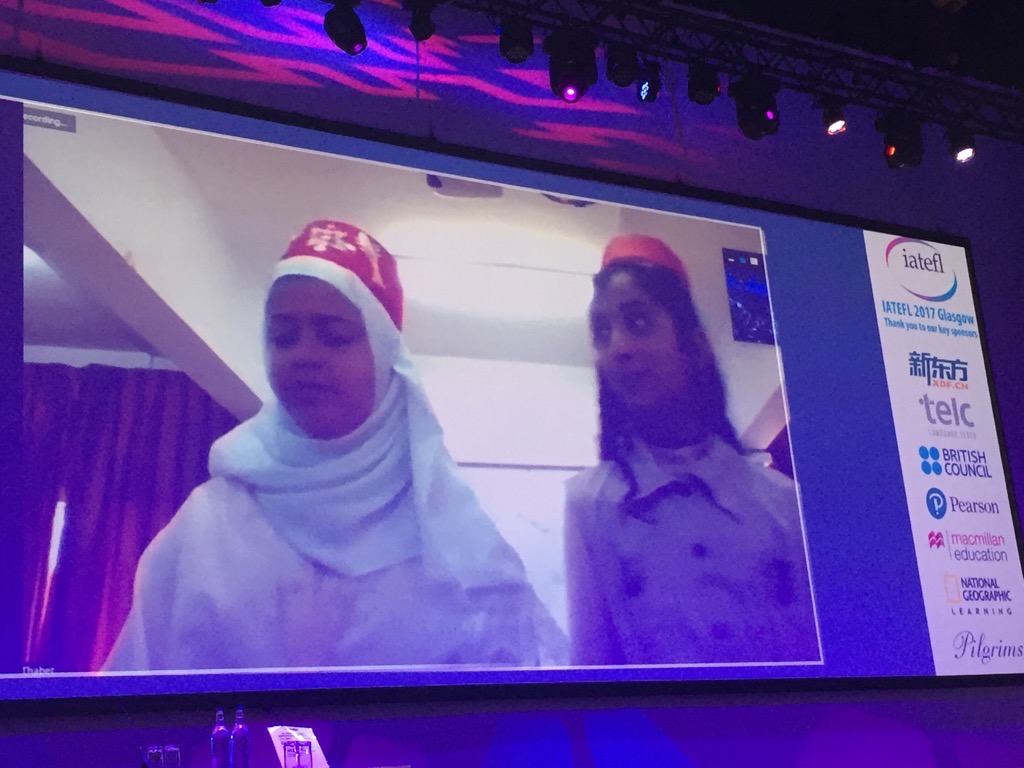 Bilbrough's Palestinian students perform live for the IATEFL crowd
7. We were treated to some well-rehearsed plays based on traditional Palestinian stories and acted live for the IATEFL audience by Nick Bilbrough's Palestinian students during his talk about drama in the classroom.
Bilbrough's very inspiring Hands Up Project is a charity that helps children in less-privileged situations to learn English through telling and performing stories with each other, and with Bilbrough himself using the power of the internet.
8. There were many forums at IATEFL this year, where speakers talking about similar topics were grouped together.
There were forums on blended learning, online vs face-to-face CPD, online teaching, digital materials, EMI (English as a Medium of Instruction) but it was nice to see a forum of speakers dedicated to listening. I particularly liked Marie Willoughby's talk on extensive listening projects where she got students to listen to 2-3 minutes of a podcast every lesson over a series of lessons, in a way that we might have approached extensive reading projects.
9. Social justice was the theme of JJ Wilson's plenary talk on Thursday.
He promoted the role of the teacher as an advocate of social change and the importance of developing our students' critical thinking skills and consider social injustice issues in the classroom. Speaking about the ideas and theories of the likes of Paulo Freire (Pedagogy of the Oppressed) and Augusto Boal (Theatre of the Oppressed), Wilson argued in a charming and animated fashion that a language teacher's job goes beyond teaching language.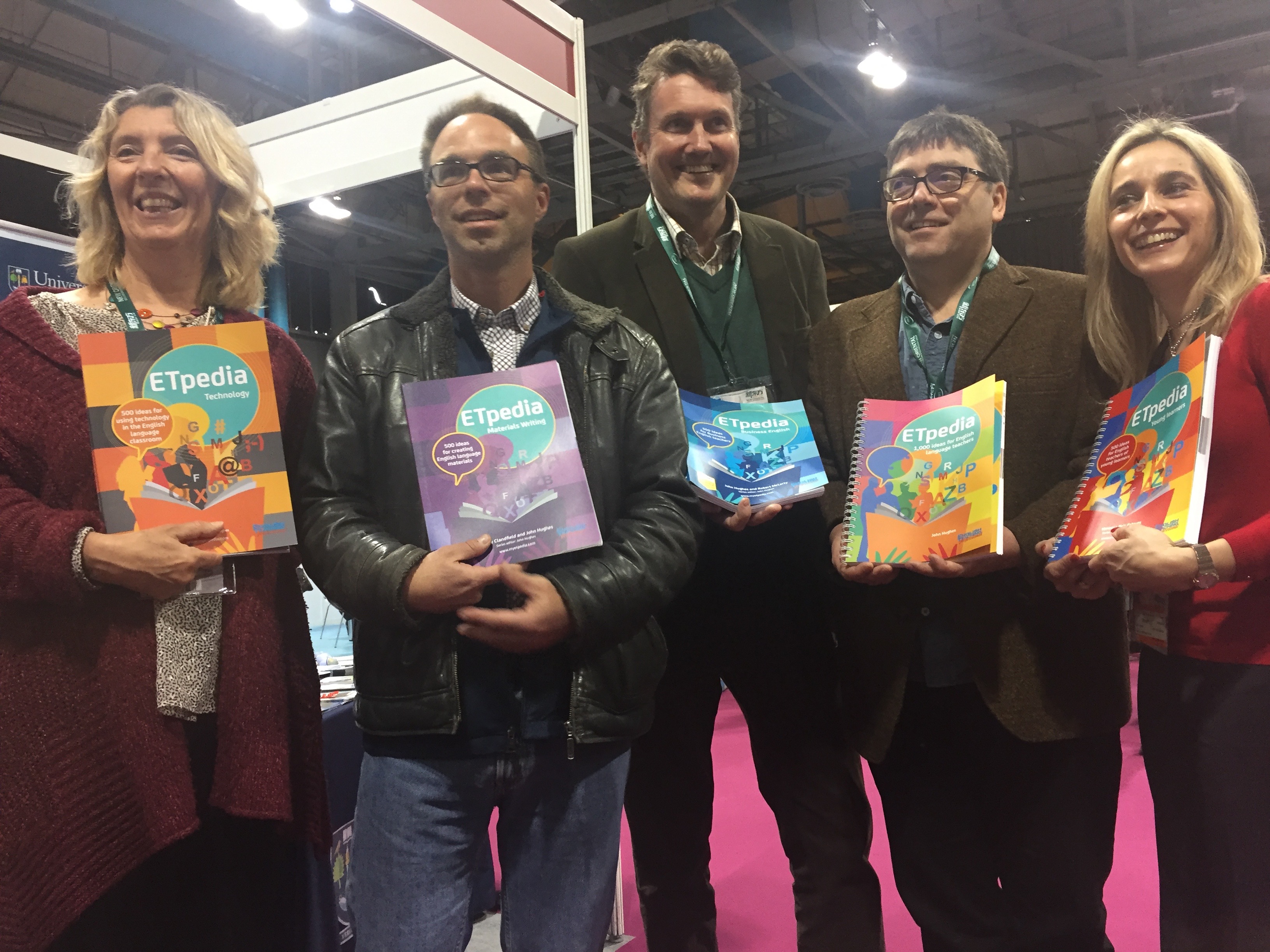 Our ETpedia authors all in one place!
10. This year, I decided to take ample time out to spend at the Pavilion Publishing (ETp's publisher) stand in the exhibition hall instead of cramming every one of my slots with talks and workshops.
This proved to be a great idea as I was then able to catch up with familiar colleagues, people I've connected with online but have never met (my Personal Learning Network), friends and conference regulars.
We had a gathering of ETpedia authors to celebrate the launch of the two new ETpedia titles: ETpedia Materials Writing by John Hughes and Lindsay Clandfield and ETpedia Technology by our ETp feature writer Nicky Hockly, resulting in an unforgettable photo opportunity.
We also had many teachers swing by the stand to chat to me, to our editor-in-chief Helena Gomm, and to our sister magazine Modern English Teacher's editor, Robert McLarty, and it was wonderful having the opportunity to really get to know how our magazines and our articles (and blogposts) are being used by our readers.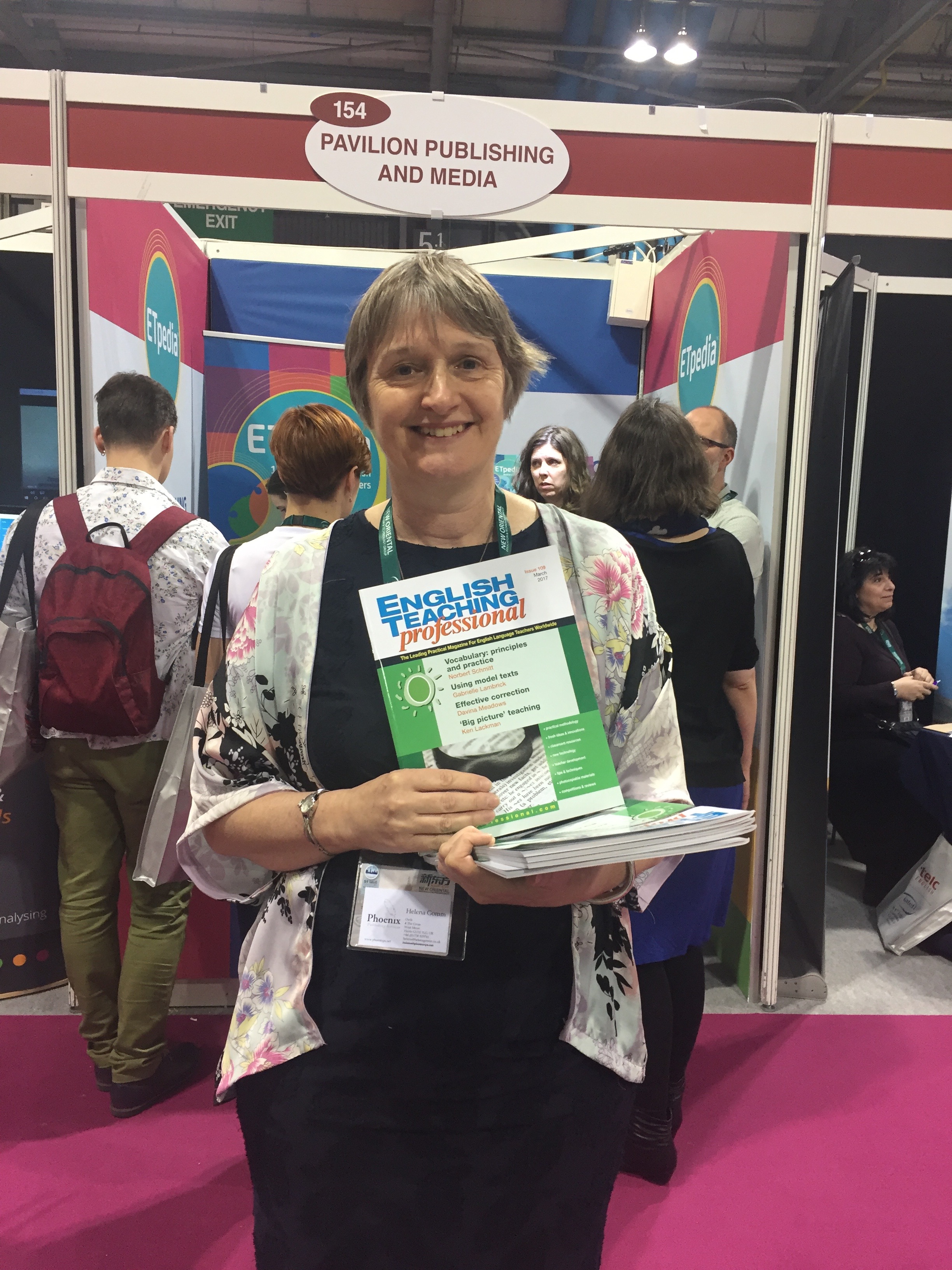 Helena Gomm, ETp's editor-in-chief at the IATEFL exhibition stand
I must admit, IATEFL Glasgow 2017 has been a intensive few days of being inspired, of reassessing and reflecting on my beliefs and my practices, and of connecting with people. I'm exhausted… and I can't wait for the next IATEFL conference!
---