ELT blogs to follow in 2018: Part 2
ELT blogs to follow in 2018: Part 1
Last month, ETprofessional asked this question on Twitter:
"What are your favourite ELT blogs and why?"
Thanks to the ELT Twitter community, we received more than 40 tweets recommending some very popular and extremely useful ELT blogs (including my own if I may so shamelessly add).
Having taken into account the number of times a specific blog was mentioned in those 40 responses, the blog's usefulness, accessibility and content, I have compiled my top 20 ELT blogs to follow.
In my last blogpost I looked at ten of my top ELT blogs. Again, in no particular order, here are the next ten:

While ELT Planning covers a lot of ground in its wide range of posts, you can easily find what you are looking for because the categories provided in the tabs labelled 'General', 'Lesson Ideas', 'CELTA Tips' and 'DipTESOL Tips' make for easy navigating. ELT Planning's blogger Pete Clements is a regular contributor to ETp and MET and wrote the informative article 'I Blog, Therefore I Am' in the May issue of our magazine.

Emily Hird of Emily Blogs is an editor and published materials writer who writes about teaching young learners, CLIL, and testing in ELT. Her publishing background is evident from her lucid and well-laid-out blogposts that clearly outline how each topic is applicable to our classrooms, top tips and suggestions, and the follow-up steps we can take e.g. further reading, etc.

Although Blogger Marc Jones is a Task-Based Learning enthusiast, the topics he blogs about go beyond TBLT. He shares the research he has read, the tools he has found useful in his classroom, and the results of the action research he has carried out. Also a fan of Dogme and the use of corpora, Marc sets a friendly yet concise and straightforward tone in his writing that makes you feel like you are getting the cream of his reflections.

If you are bored, or simply unconvinced by the way your coursebooks are dealing with articles, modal verbs and vocabulary revision, you might find yourself ploughing through the internet digging for better lesson ideas. Consider Lesson Plan Diggers as your first port of call for finding the lesson plan that might inspire you and your learners. Gosia Kwiatkowska's blog is beautifully laid out and filled with ideas from Day One Ice-Breakers and problem-solving speaking activities to games for exam classes and ways to use cartoons in your lessons.

Whether discussing the use of podcasts for extensive reading, the use of Google Docs for academic writing, considering cross-disciplinary collaboration or teacher identity, blogger of 4C in ELT, Tyson Seburn writes with gravitas while keeping the subject matter easily accessible. A teacher and education manager based in Toronto, Tyson is the author of Academic Reading Circles (published by The Round) and also the joint coordinator of IATEFL's TD SIG.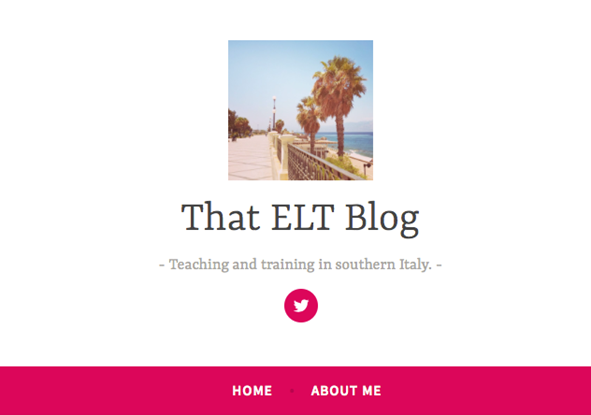 There is something uplifting and refreshing about That ELT Blog. Written by a relatively new teacher who is currently doing her Cambridge DELTA, Sanchia Danielle takes us on her journey in ELT, sharing her fears and successes, her lessons and her reflections.

ELT Rants, Reviews and Reflections does what it says on the tin. It rants about issues that blogger Michael Griffin encounters in Korea like 'native speaker bias'; it reviews books, conferences and features the occasional interview; and it reflects on classroom practice, cultural differences, and presumptions about teaching and learning. Written by one of the nicest guys in ELT, this blog is a very good read and one of the few ELT blogs that deals extensively with culture (particularly Korean culture).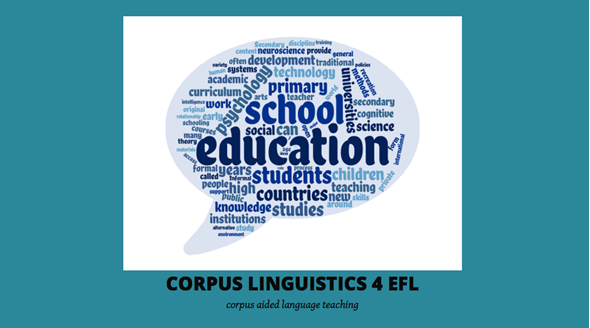 For those who are interested in using corpora in their teaching or writing, Corpus Linguistics for EFL provides a sound basis for introducing the reader to several different corpora and concordancers and looks at different ways they can be utilized to find out about frequent collocations or colligations, real-world uses of a lexical item, possible translations, and even guided discovery of grammar rules and explorations of possible connotations. Tokyo-based lecturer Michael Brown writes for both beginners and expert users of corpora and the blogsite is a real resource for all those interested in corpus linguistics.

Russell Mayne of Evidence Based EFL blogs about a variety of topics ranging from discussions about various teaching methodologies and approaches and the merits of a MA versus a DELTA to learner psychology and the now out-of-favour learning styles, but one thing is consistent about this blogsite: the articles are extremely well-written, with easy-to-follow logic and thought patterns, making the evidence-based research useful and informative, and the opinions persuasive. If you are unsure of where to start, click on the 'Greatest Hits' on the right-hand column of the blogsite and it will take you to some of Russell's best blogposts.

What Kate and Kris Did is an ELT blog with a difference. Having started out as a travel blog, Kate and Kris share their experience of teaching English around the world, offering advice on finding jobs and teaching in countries like Ukraine, China, Colombia and Thailand. Under their 'Teaching English' tab is the option to click on 'New Teacher Tales', which features interviews with different teachers who have taught in different countries, offering the reader an insight into their different experiences. A must-read if you're aiming to teach English abroad.
And that concludes our 'ELT blogs to follow in 2018' series.
Which ones are your favourite?
Which ones did you already know?
Which ones did you follow/bookmark?
Hopefully, we've given you enough fodder to enrich yourself as we prepare to continue on our professional journey in the coming year.
Merry Christmas (to all who celebrate) and may you have a fulfilling and inspiring 2018!
Have a happy new year!