And the ELTon goes to…Winners of the ELTons 2019
Every once a year, for the past 17 years, some of the most famous teachers, trainers, writers and publishers in the English language teaching industry would come together for the British Council ELTons innovation awards to celebrate innovation and to bear witness to the direction the industry is taking.
Like last year, I had the honour of live tweeting the event and conducting the red carpet interviews alongside Paul Braddock and Callie Massey, and had the opportunity to chat to the finalists and the winners up close at the IET in London on the 10th June this year.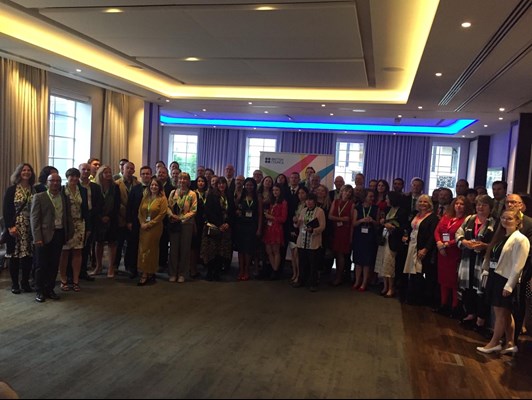 The finalists of this year's ELTons awards. Photo by Kirsten Holt
There was quite a variety of publications, apps and courses showcased at this year's ELTons, ranging from videos of undercover teachers filming their authentic interactions to simulations that had learners communicating with avatars to ESOL courses for immigrant mothers who need English to participate in their children's education and healthcare. (See here for my article on the finalists). Among the 26 finalists was Pavilion ELT's Chris Roland with his book 'Understanding Teenagers in the ELT Classroom' in the category of Innovation in Teacher Resources.
Although each finalist had a different unique selling point and were innovative in their own ways, some had to be crowned winners at the end of the evening … And the winners for the six categories are …
Digital Innovation
Any e-learning designer or writer would tell you that one of the hardest things to incorporate into digital learning design is authentic communication and fluency practice. Many digital products often excel at discrete item teaching and testing but struggle to help learners use these items in a meaningful way. The winner of this category, Go Correct, figures that in order to go beyond the discrete items, the best way is to humanize the digital experience and have a real life teacher on board. Users are asked to discuss a question on Facebook Messenger and their answers are then read and corrected by a teacher within 24 hours. Over time, their language use is plotted on a graph and learners are able to clearly see what they have improved on and what they can do to move forward with their English. Like many other finalists in this category, this product can be used on its own or as a supplement to the learners' classroom experience.
Excellence in Course Innovation
Two out of the five finalists in this category this year were TBL (task-based learning) courses – a testament to the fact that more and more people are perhaps starting to understand the power of using tasks in the classroom to promote interaction and provide opportunities for the negotiation of meaning.
The winner, Widgets Inc. is a task-based learning course in which learners role-play different job roles and scenarios as employees of the fictitious company 'Widgets Inc.' Learners get to practise their communication skills and language skills as they work together on projects, make highly-contextualised presentations and simulate job interviews within realistic scenarios. The tasks get more and more challenging as they move through the stages, ensuring that learners always have a communicative workout to look forward to in their lessons.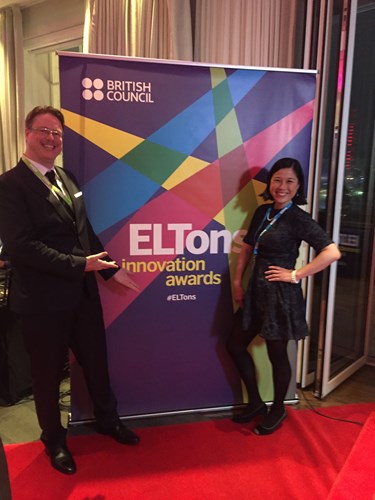 Me about to interview a finalist, Chris Roland on the red carpet. Photo by Kirsten Holt
Innovation in Learner Resources
Authenticity is undoubtedly a quality that is celebrated this year at the ELTons. After all, the industry has seen its fair share of contrived dialogues that are clearly only there to support the presentation of the past perfect. In the previous category, we saw Widgets Inc. put the learner in authentic scenarios through the use of task-based simulations. The winner of this category Ready to Run also takes pride in delivering authenticity to its learners.

Using authentic sources such as blogs, vlogs, YouTube videos and other media content, Ready to Run has a bank of entertaining and useful learner resources. Supplemented with teacher guides, transcripts and handouts, learners are able to experience natural language and real-world topics with the knowledge that the language they encounter would match their CEFR levels.
Innovation in Teacher Resources
How can we teachers not be confined geographically to the jobs we can take on and expand our repertoire to encompass online teaching? How would online teaching differ from our usual face-to-face lessons? How can we develop language skills online? What if we are technophobes?
The short online course Teaching English Online emerged as the winner of this category for helping teachers design and deliver effective online classes. A course that addresses a very real fear for many a teacher who is used to the physical classroom, this ELTons winner has teachers embracing the role of digital media in language teaching and using it to our advantage.
Local Innovation in partnership with Cambridge Assessment English
The Hands Up Project has been using the medium of drama and storytelling to inspire and teach English to students in Palestine for several years. Their ELTons win this year was for a playwriting competition in which the young people of Gaza were given the chance to write and perform their stories in English. The group of 14-year-old girls who won the competition visited London for a week last year and performed their winning play 'Inner Thoughts' at the Hands Up Conference. A collection of 30 of the best plays was published in the book 'Toothbrush and other plays'.

As the founder of the Hands Up Project, Nick Bilbrough approached the stage to accept the ELTons award this year. It was heartwarming to see a standing ovation from a significant number of audience members, applauding him for giving these children a voice.
Award for Outstanding Contribution to ELT
The award that used to be known as the Lifetime Achievement Award is now called the Award for Outstanding Contribution to English Language Teaching. And this year, the winner is one of the world's most well-known linguist, Professor David Crystal. In addition to authoring more than 100 books, Professor Crystal is known for his inspiring talks, lectures and TV and radio broadcasts about the English language. The ELTons' host and famous poet Benjamin Zephaniah described Professor Crystal as having brought the varieties of English that lived for years underground overground.  
I was fortunate enough to be tasked with interviewing Professor Crystal after his win this year, and was struck by his humility and the credit he continually gives to practitioners and teachers for being the ones 'out on the field doing the hard work'. Click here to see my interview with Professor David Crystal and other red carpet interviews with the winners of the evening.
As we celebrate the wins of this year's ELTons, I find myself thinking about what this all spells for the direction of ELT and what this all means for the teacher getting ready for their lesson the next day. How can these innovations change the way we teach? How can we benefit from learning about them?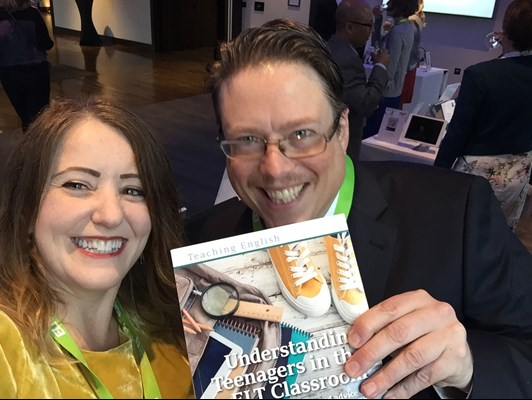 Our very own finalist Chris Roland with Kirsten Holt, Head of Pavilion ELT. Photo by James Gifford-Mead
To help get these questions answered and much more, why not attend this year's Pavilion ELT Live! event in Camden, London, this Saturday? Our Head of Pavilion ELT, Kirsten Holt, says "It's a day conference which covers change and innovation in ELT: ways to be more inclusive; new approaches to grammar teaching; evidence-based learning; teacher empowerment and much more besides!" It's the final day to get your hands on online tickets so you'll need to be quick… enter GOLDEN at check-out to get £30 off the ticket prices.